Af Peter Krogh
Vi har alle set billederne af den slanke skarpe Elvis på det nybyggede International Hotel i Las Vegas. Sulten var tydeligvis stor efter otte år med film-kontrakter, og ingen live-optrædner.
Manden bag The International Hotel var forretningsmanden Kerkor "Kirk" Kerkorian. Han købte den store byggegrund, mellem Desert Inn Road og Sahara Avenue i foråret 1967, for $ 5 mill. Byggeriet startede i juni ´67 og var først færdig i slutningen af maj ´69. På det tidspunkt var omkostninger langt over budgettet på $ 60 mill.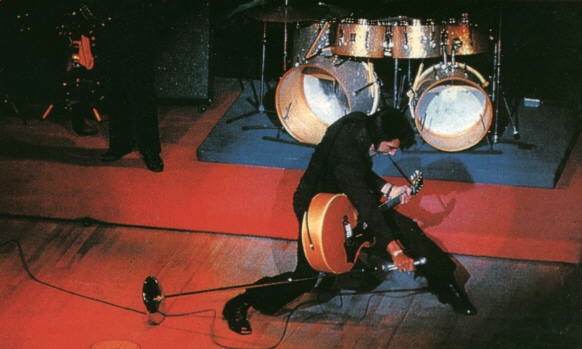 Da hotellet åbnede 1. Juli 1969, var det verden største og dyreste. 300.000 m2, 30 etager, 1500 gæsteværelser, casinoér, biografer og det 2000-sæders-showroom hvor Elvis skulle optræde utallige gange de næste år.
Først navn på plakaten var dog Barbra Streisand. Hun optrådte på The International mens de sidste ting kom helt på plads, i perioden 2. – 30. Juli. Allerede dagen efter stod Elvis på scenen.
Flere havde spurgt om der ville blive afholdt en pressekonference i forbindelse med Elvis´s optræden på The International Hotel. Svaret fra Colonel Parker "Det har vi ikke planlagt…"
Enten kom Parker på andre tanker. Eller måske havde han holdt det hemmeligt for ikke at blive løbet over ende. Under alle omstændigheder blev en pressekonference afholdt i Convention Hall på The International kl. 12.30 dagen efter premieren. Udover pressen var flere VIPér og en god håndfuld af de mest ihærdige fans til stede.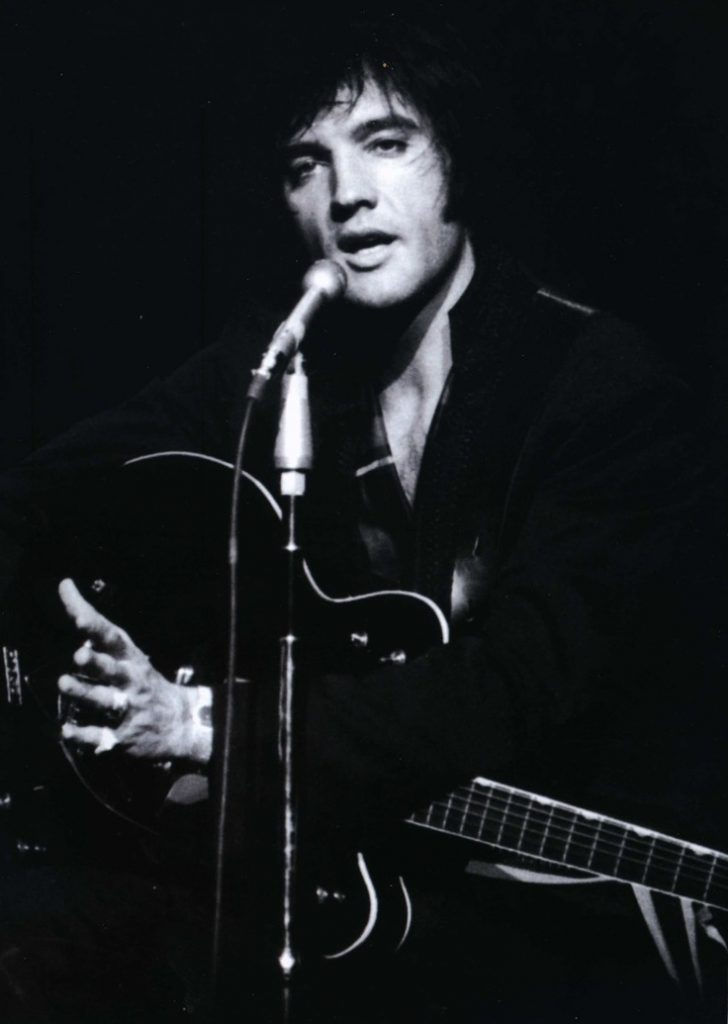 Der findes desværre ikke levende billeder eller lyd fra konferencen, men spørgsmålene lød blandt andet sådan:
– Can you remember first coming to Vegas?
– Sure, I was 19 years old (Det var I 1956. Elvis var 21 år) – nobody knew me. "Where you from, boy?", they would ask.
– How do you like being a father?
– I like it.
– Are you and Priscilla planning on adding to your family ??
– You'll be the first to know. (laughing)
How do you manage to stay so young?
– I don't know… one of these days I'll probably fall apart. I feel, I've just been lucky.
– Do you feel it was a mistake to do so many movie soundtrack albums?
– I think so… when you do ten songs in a movie, they can't all be good songs. Anyway… I got tired of singing to turtles.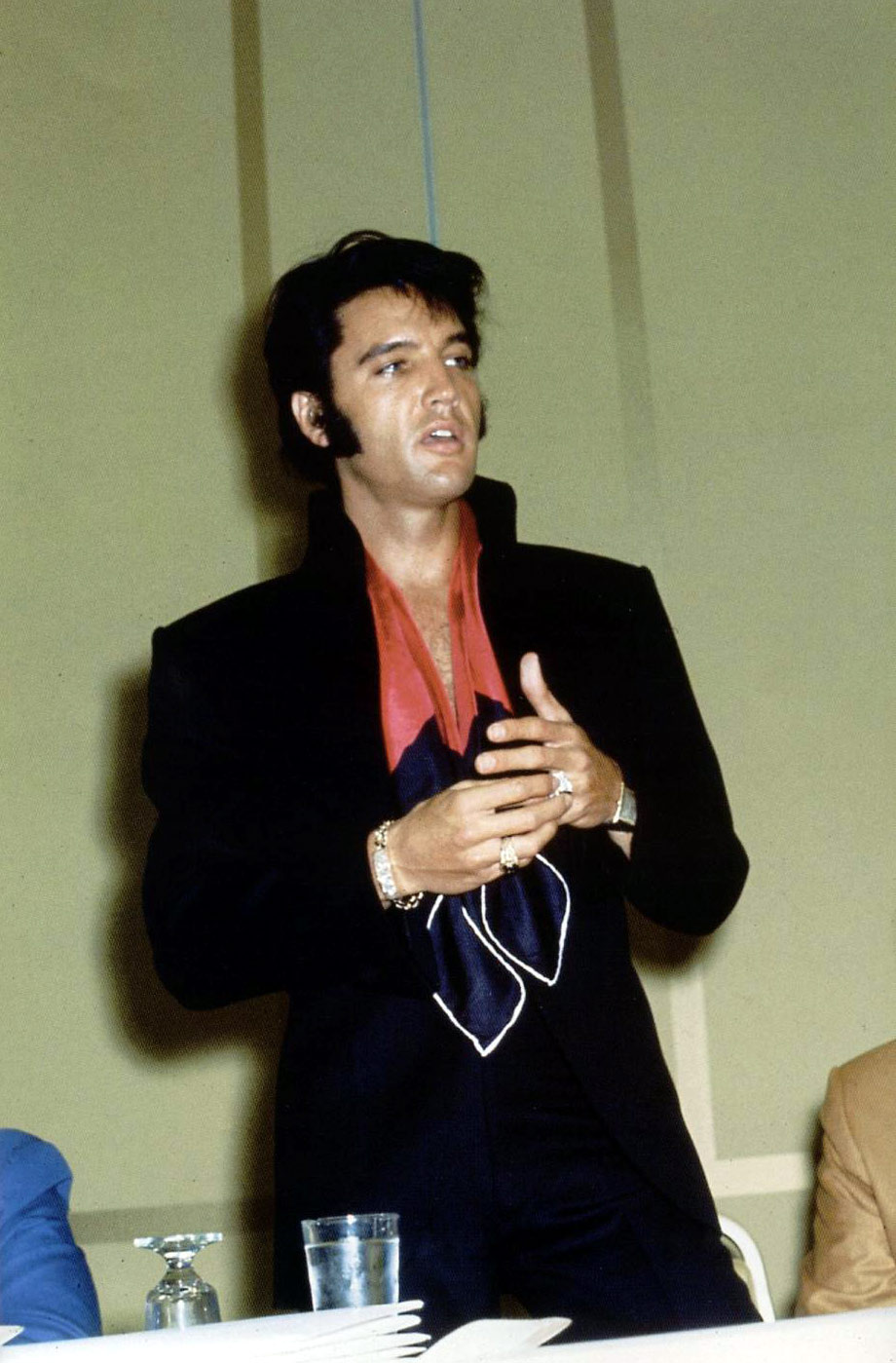 – How long did you rehearse for these shows?
– I practised for nearly three months. Today I went through three complete dress rehearsals. This was the fourth time I did that show today. I'm really beat.
– How did you choose the songs for the show?
– I just sang my favorites, that's all.
– Will you do more live shows?
– I want to…. I would like to play all over the world. I chose Las Vegas to play first, because it is a place people come to from all over.
– Are you trying to change your image with songs like "In the Ghetto"?
– No, Ghetto was such a great song I just couldn't pass it up after I heard it. There are a lot of new records out now that have the same sound I started, but they're better. I mean, you can't compare a song like Yesterday with Hound Dog, can you?
– How do you like the idea of other groups, like Albert King, recording your songs?
– I love it!
– Why have you led such a secluded life all these years?
– It's not secluded, honey… I'm just sneaky. (laughing)
– Did you enjoy performing live again?
– Yes. This has been one of the most exciting nights of my life.
– Did you feel nervous during the show?
– For the first three songs or so – I didn't feel relaxed until after Love Me Tender before I loosened up… then I thought "what the heck… get with it, man, or you might be out of a Job tomorrow.
– Why did you choose a negro backup group?
– Because they help to give me my feel, my soul.
– Have you ever seen England's top singer, Cliff Richard?
– Yes, I met him in Germany a long time ago (de mødtes først i 1962).
– Mr. Presley – I've been sent here by Lord Sutch Enterprises to offer you one million pounds sterling to make two appearances at the Wembley Empire Stadium in England. This price will include a documentary that will be filmed during and after the shows – it will only take 24hrs.
– (Elvis peger på Col. Parker) You'll have to ask him about that.
– (Parker) Just put down the deposit.
– Do you still own about 10 cars?
– I have never owned that many – only four or five at most.
– Elvis is there any other individual you would rather be?
– Are you kidding?! (laughing)
Da Elvis gik på scenen d. 31. Juli, var det med et håndplukket orkester bag sig. James Burton og John Wilkinson på guitar, Jerry Scheff på bas, Charlie Hodge guitar (og lidt sang), Larry Muhoberac på piano og Ronnie Tutt på trommer. Derudover The Sweet Inspirations og The Imperials samt Bobby Morris og hans orkester. Det kunne vel næppe blive mere kompetent i 1969. De havde øvet hver dag i over en måned. Alligevel var Elvis ekstremt nervøs inden det første show. Så alle blev kaldt sammen til en hurtig "øver" kl 17.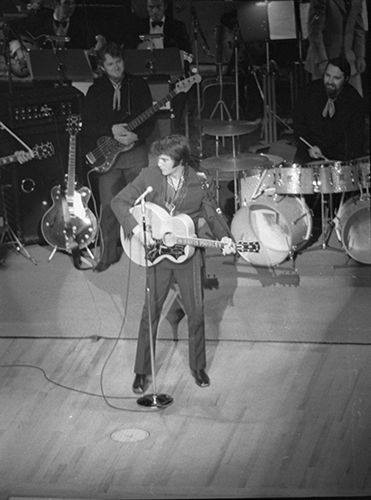 Da showet startede var det som at slippe et vildt dyr løs efter 9 år i fangenskab. Trimmet i sit karate-lignede outfit var der intet nervøst over tingene, og publikum var i ekstase. Det var en Elvis som gav sig 100% og troede på det han gjorde. Døren var hermed sparket op på vid gab, og det nye hotel erklæret helt åben. Kongen havde i den grad indtaget Las Vegas.
Under hele Elvis´s arrangement på The International, kunne man også se ham hænge ud alle andre steder end på scenen. Elvis var at finde på gangene, i casinoérne, på restauranter, til shows etc. på alle tider af døgnet. Når han mødte fans, som kom fra hele verden for at se Elvis, var der altid tid til en snak, en autograf eller et billede.
Hvad skrev anmelderne om ham dengang.
"He performed so brilliantly – singing such of his songs as "Hound Dog" "Well, All Right" and " Jai1house Bock," bareback – riding his guitar and doing cyclonic exercises with the microphone"
"Presley magic were his loyal fans, women and teen-age girls, who lined the corridor outside his suite. "He's better than ever," claimed one girl. "His latest songs have been groovy."
"Rock music no longer gives cultural shock to the middle-aged. And neither does Elvis Presley. Presley still makes those "suggestive" movements. But the shocking of 1956 can be the nostalgia of 1969.
And Presley's personal reputation hasn't hurt him with the over-30s. There haven't been any stories of scandals with girls, or boys, or drinking, or drugs."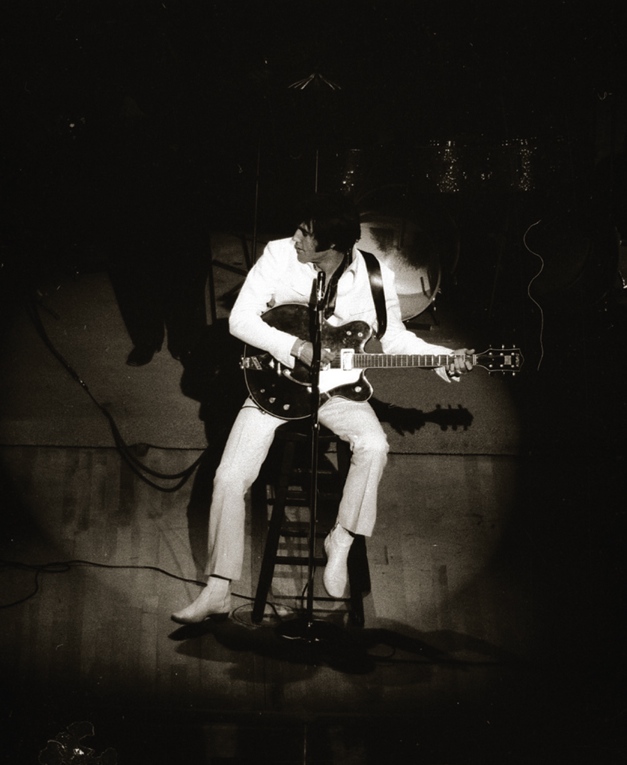 "Presley received a long standing ovation. It was one of the the rare occasions when a Las Vegas standing salute was sincere rather than rigged with a few cronies of an entertainer planted down front to stamp and scream approval."
"At the outset of the show, Elvis said: "Before the evening is over, I will have made a complete fool of myself – and I hope you enjoy it."
Presley is no fool. And neither are his adoring fans, who expect to see more of their idol in years to come. Nancy Sinatra has some big shoes to fill when she follows Elvis on the International Hotel stage next week."
Ingen tvivl om at dem som oplevede Elvis i Vegas  den august måned, oplevede en moden, energist og sexet udgave af Kongen.
---