Interview med Joe Esposito
Elvis' ven og road manager
Her er et spændende interview med Joe Esposito fra år 2000, som blev offentliggjort i sin helhed på TCM (Turner Classic Movies) hjemmeside dengang i år 2000.
Det findes kun på engelsk, og vi har desværre ikke ressourcerne til at oversætte det til dansk.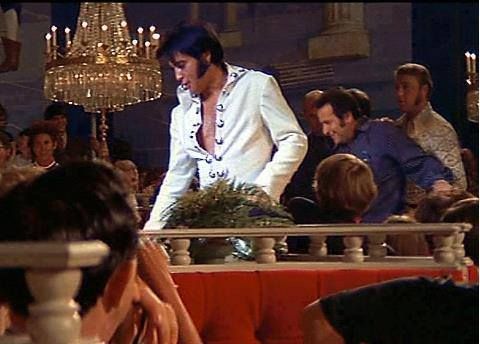 INTV: Could tell me about this movie happening at a time in Elvis's career when Hollywood and the fans expected a certain thing out of Elvis in Hollywood. Tell me about where Elvis was in his film career and how this movie came to be.
ESPOSITO: Well, Elvis was getting pretty tired of doing actual movies with scripts and stories and all that in Hollywood; all of his movies were travelogues. So when this opportunity came along and the Colonel had a conversation with Elvis about doing this he said okay, why not, let's try it 'cause he's never done anything like that before, this was a first. So he was excited about it.
INTV: So this was the first opportunity Elvis had to really be Elvis?
ESPOSITO: Well, I think you can see that in some instances Elvis is not comfortable with the camera around because remember in all the movies over the years he had a line, he was playing somebody. But now he was himself, he didn't know how to act sometimes. Nowadays cameras are small but in those days huge big cameras call attention to themselves. That's why he refers to the camera a lot during the movie and everything because he felt a little bit strange about that happening.
INTV: Tell me about that scene at the MGM gate and who's the guy at the gate?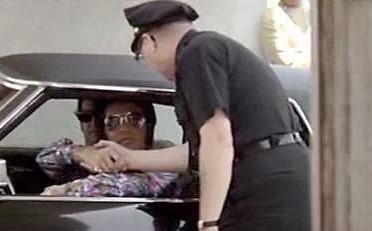 ESPOSITO: Well, you know, that was the gate we always came in every morning. Naturally they wanted Elvis to drive and pull up in. Ken Hollywood, very famous gate guard, been there for years and I know Hollywood was not his real name. When he first came to Hollywood he changed it. And he was a real personable guy, a real nice guy. Everybody knows Kenny. It was fun. Hey, it was great for me to be in the scene with Elvis in this documentary, the first time he'd done something like this.
INTV: What happened to Elvis when he got around his band members?
ESPOSITO: Well, you gotta remember one thing: Elvis Presley loved music. He loved that more than anything in the world and when he got around musicians he could relate because he knows musicians felt the same way about music as he did. They were very close. Elvis was like that with musicians and singers and most other entertainers too because nobody thinks the same way entertainers do. They're their own little group.
INTV: Also, we really see in this film a guy who liked to have fun.
ESPOSITO: Elvis loved to have fun. Even on movies and locations, stuff like that, he used to tell the directors if they were too serious – wait a minute, if this not gonna be fun, I don't want to do it. That's the way he felt on tour and on concerts. That's why Elvis had a lineup to a certain point but if he wanted to change something and do whatever he wanted to do, he did it. He wanted to have fun and he'd test the band and he'd test the singers and he would just give them a challenge. But the band, they were great, they could do anything Elvis wanted and Elvis loved that and that's why he got along so great with them.
INTV: The original release of this was film shot in July and August of 1970 and Rick Schmidlin just told us it came out in the winter of that same year. What purpose did the original release of this film serve and what purpose in Elvis's career?
ESPOSITO: Well I didn't think the original release ever showed Elvis behind the scenes. That's what we're tryin' to do, show Elvis, what it's like to be on the road with him, we just tried to be something different. Not just another motion picture.
INTV: As much success as he had by 1970 there's still something that runs through the film. We see it as he's backstage with the guys reading the telegrams, we see it as he asks to put the lyrics to "I Just Can't Help Believing." He never really did take it for granted. It looked like he still got nervous before every performance.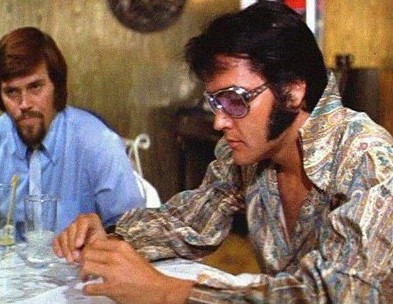 ESPOSITO: Elvis would tell you himself he was nervous before every performance. He would go in there behind backstage and you could just see him getting ready to go on stage. He'd be nervous and going through the show in his mind. You know the first couple of songs you're nervous; once it's gets goin' then he's fine, very, very comfortable, he could stay on there forever. But he was like that on everything he did.
INTV: What did you see in the musicians as they watched Elvis?
ESPOSITO: Well I could see they're excited they're doin' a show, not just playing musical instruments. When you play with Elvis you have to watch every move he makes. You have to really pay attention and play to every little move he makes. That's what was great about this band, they really worked together.
INTV: One of the criticism that's always come up about Elvis and one of the things that people who aren't Elvis fans always ask about is, why did he always have all those guys around him? There are those of us that understand why but talk to me a little bit about Elvis' decision to surround himself with his guys.
ESPOSITO: Well mostly because he felt comfortable around them. Elvis is basically a very shy individual. He wouldn't feel comfortable around a bunch of strangers. He felt that he wanted people that knew what he was like to work for him. Plus he wanted them to share his fame and fortune with him, that's the kind of guy he was. He was very generous and he was very concerned about his friends and family and that's the way he wanted to be.
INTV: You had a unique perspective also in that you were one of the only Northerners. JOE Yes, I was the only Yankee in a tan from Chicago. I went to the South and all those people sayin' uh, oh we got troubles here. But you know it's like anything, after a while they got to know me, I got to know them; I wasn't too comfortable either at first. But I knew Elvis and a couple of the other guys that were there working for 'em. It all worked out fine.
INTV: Talk about some of the other people that were around.
ESPOSITO: In those days when Vegas was really Vegas, all the stars would go and see each other's shows. I mean it was just a tradition- you came in town, you went to see Frank Sinatra, Dean Martin, Sammy Davis Jr., Barbra Streisand, whoever was around you go see, and you go back stage and visit and say hello and talk for a little while. All those people came to see Elvis; they all wanted to come backstage and meet him. He would talk to them and it was very exciting. Like I say I'm from Chicago, a young kid and all of a sudden my life changes and I'm with all of these big stars I idolized all my life. It was exciting for me and I tell ya, Elvis was very excited to meet a lot of those people he idolized. Dean Martin, especially. He loved Dean Martin so he'd see Dean all the time when he could.
INTV: A famous sequence in That's The Way It Is, the original version and the new version is Elvis and you on the two seater bike. How did that come about?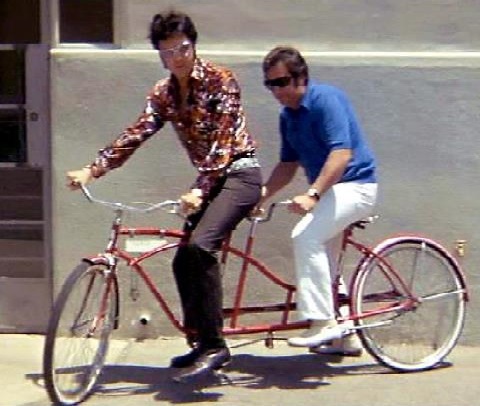 ESPOSITO: Well you know it was actually the Colonel Parker's idea. He said you two guys jump on the bike and drive around. So we use to drive it around the lot once in a while.
INTV: He also went through some wardrobe changes during rehearsals too.
ESPOSITO: Yes, he did tear his pants out a lot. He did because he'd make a certain karate move 'cause he wore tight pants they'd tear the seat right out of 'em. And that's why he started wearing jump suits, they stay in one position.
INTV: Is this as close as were going to get to seeing who he was? Even though he knew there were cameras around?
ESPOSITO: Yeah, as far working wise goes, yes, this will probably be the closest you'll get to seeing Elvis, how he was on the road, working on stage behind scenes, being nervous before going on the stage, and talking to his friends.
INTV: What was Vegas like in those years?
ESPOSITO: Ohh, the best. I mean Vegas then was Las Vegas. All of the stars went out together. We used to go and hang out even before I even started performing there. We'd go to Vegas a lot just to see everybody. Billy Ward and the Diamond O's, Fats Domino and Della Reese, they're all playing the lounges. All these people Elvis loved. Every night we'd all meet at the Sahara Hotel in the lounge. That's where Louie Prima was performing, Jerry Smith, Don Rickles, and everybody'd be there, Sinatra, Dean Martin, every celebrity in town would go there and meet for breakfast. And at least one big party every night. Don Rickles would be cuttin' everybody up from the stage. He would destroy all the stars. But he never did it to Elvis, and somebody asked him one time, why didn't you put Elvis down like you do all the others as a joke and he says "Because one thing I loved about Elvis Presley is he loved his mother and so do I."
INTV: Is there a moment that you've seen in the new version that you might have forgotten about?
ESPOSITO: I just look at it like a home movie because I remember what those days were like, what he was like, how he treated people, and the warmth you got out of him. It was just one big happy family working together and playing together. And it was very exciting, a big, big part of my life, and everybody else's in the show. I feel good that I was there for that filming of that. It just gives me great feelings to see and remember Elvis that way.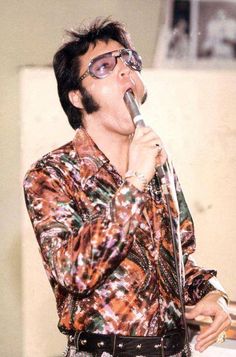 INTV: Why are we still talkin' about this guy twenty-three years after his death?
ESPOSITO: You can't explain that. I've been asked this question a million times, and you have to ask the individual people. Everybody has their own impression about Elvis and they all feel, and I'm sure you've heard this before, they all feel when Elvis did a show, he sang to them. Even though there's twenty thousand people in there, Elvis gave everybody a feeling he was singing a show to them. That's pretty good; I think that's why people still love him twenty-three years since he's been gone.
INTV: Now you've had the opportunity of meetings the fans all these years since he's been gone, what's been your reaction to meeting us and how do you explain this to ten years olds, fourteen year olds?
ESPOSITO: Well that's tough. First of all, I got the honor that Elvis made me a part of history. Because of him I'm always part of history. Which just makes me feel pretty good. I meet a lot of these kids, they come over and say oh you're Joe Esposito, and I don't know how they know that, I mean they're ten, twelve years old. And they said yeah we saw this movie or saw that movie with you and they'd quote lines I said and they'd say that was very funny. I said what made you a fan of Elvis, they said we watched a TV special or watched a movie and there was something about him that we saw that we want to know more about. They started buying videos, buying records, albums, and now they're big big fans.
INTV: You've had the opportunity to work with a lot of other stars . . .
ESPOSITO: Oh yes. And working with John Denver, a wonderful human being, great guy, he'd want to talk about Elvis. Bee Gees, Barry Gibb, all he wanted me to do was talk about Elvis, tell me stories about him. Same thing with the Carpenters, I worked with Karen and Richard Carpenter and Karen was a big fan of his, so it's nice to know that those people respected Elvis so much. I even worked with Michael Jackson for awhile and he wanted to know how the operation worked.
INTV: You have the unique perspective as you said of being the Yankee in the camp. What is there about the south, so many artists come from there? What is there about the south, Sun Records was just this magnet for all these southern boys to go and play their music?
ESPOSITO: I think just music. Music I think is bigger in the south. I mean, Jazz is bigger up north, okay, but I think the blues and gospel music, everybody hears gospel music and country music played everywhere, in more places than the north. Southerners are just raised with it more. They sing a lot of music in church. And they do more in the north now than they used to, but all those kids are raised with music, I think that's basically what it is.
---
That's The Way It Is – den ultimative guide

Tilbage til forsiden – til næste kapitel