Interview med Rick Schmidlin
Producent på That's The Way It Is – Special Edition
Her er en del af et spændende interview med ham fra år 2000, som blev offentliggjort i sin helhed på TCM (Turner Classic Movies) hjemmeside dengang i år 2000.
Det findes kun på engelsk, og vi har desværre ikke ressourcerne til at oversætte det til dansk.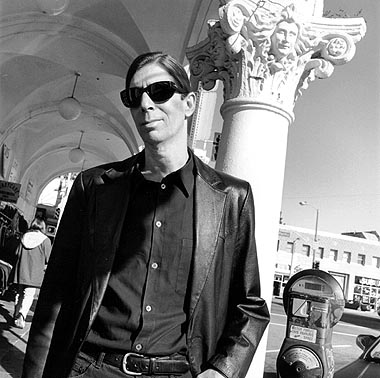 RICK: The negative that we found for this film had a interesting history. It had been moved three or four times and so it was existing in three different locations. And the detective work that we had to do to find all this material and see what we had! It wasn't something that was just like okay Rick, here it is, go and do it. It took about five months of exhaustive research and constant badgering the powers to be to find out is there more? Is there more? Is there more? and basically we feel we've come up with everything that possibly could exist. We had people going down two miles below the earth in Kansas looking for unmarked cans that possibly contained the footage and we found things, sometimes only a couple of seconds, that increased the value of the show. And increased what everyone expected the show to be. We also found alternative performances that were not in the original film, and because of today's editing skills we were able to recreate a better performance. You'll see something different.
INTV: What kind of volume of material are we talking about? Once you found everything and go into editing what's the material you have to draw from?
RICK: We found about sixty thousand feet of original negative. And about ten thousand feet of work print. I would say we had another three to four hours of usable material to work with. In a best world situation you're at a ten to one ratio as far as bad footage to good footage. Here we were at about a three to one ratio. We tried to really find the rarest and the best material to incorporate into this film.
INTV: People have had thirty years to watch Elvis: That's The Way It Is. When you sat down and looked at the original film how did you make your decision of what stays and what goes?
RICK: It was based truly on performance value. We had gone in knowing that we were going to take all the interviews out and most of the talking heads that that were used for different purposes at a different time. And we wanted to stay with a film that was much more focused on Elvis personally than on how people perceived Elvis because obviously that's a different perspective right now. We took out a third of the footage that always existed. There will always will be that version that people can go back and see, but this version is different because it stays strictly with Elvis.
INTV: So once you eliminate all the material that you got rid of what's the ratio of the new material versus material they've seen before?
RICK: . . .Forty percent of this film is completely new. But the film is a hundred percent re-edited. There has probably not been one shot that has not been re-cut, re-altered, or fine-tuned. We have to remember back in 1970 there were not music video editors and people who had music experience and were trained literally in music. In 1970 very few concert films had come out theatrically – Woodstock, Wattstax, and a few other rare entities. So basically the editors of these films were film editors. Now there are people who have spent twenty years cutting music on film and that's what shows differently as the person who cut this film. Mike Salomon knows music. The person who cut the original film probably enjoyed music but didn't know how to cut to music. Mike Salomon had spent years producing, directing, and editing Garth Brooks, Trisha Yearwood, The Judds, Sawyer Brown and was well versed as a director, not only as an editor in how to make a concert work but how to make this kind of performance work. And that's what I think really made it special. Mike did just a brilliant job.
INTV: Talk to me a little bit about how the film was shot. What kind of cameras did they have, how many did they have, what was their working condition?
RICK: They started with five Panavision cameras so it was shot for a widescreen audience. And that doesn't mean that every camera was going all the time; during the rehearsals they were only using two cameras. These cameras followed Elvis from Culver City to Las Vegas and by the time he was on stage in Las Vegas there were five cameras. And we're talking cameras that were massive cameras that were four times the size of an average suitcase.
INTV: As you sat down with the materials and you began, what were your feelings about who Elvis was then and what are your impressions of Elvis now?
RICK: Foremost he was an entertainer and a musician. He was a vocalist but he understood everything about music that one could understand. He was a complete professional when it came to being on the job. And his goal was to really please his fans and work as a package with his band. When you watch the relationship between these people it breaks away the myth; it shows a man who's compassionate about band members, about fans. He goes into the audience and he acknowledges fans; you never see him pushing someone off. I talked to a friend of mine who was backstage at that show and he said he was one of the nicest people he had ever met. And he said that Elvis just did everything he could for his fans. Obviously he had a private life. But that's not what this show's about. This show is about Elvis the entertainer. That's what I think I was able to put together. If I was to re-title the film, it would be Elvis the Entertainer. It's what he wanted most to do. This was obviously a different band and this was an incredible band that had the best players that were playing this style music in the world, everything was done letter perfect. It was well thought out, it was methodical.
INTV: What do you do as a filmmaker to turn the band into real people, to make us aware of who these people are?
RICK: We followed the camera in an intimate way to find out what the interactions and what the relationships were between each individual. So we could see the eye contact. Which you don't necessarily see in a lot of documentaries and this is not a documentary this is more of a performance film. But you see the eye contact of Elvis and each band member. There's a lot of cutting to the eyes which is something I learned years ago. And that changes the focus because you start feeling the soul and the relationship between each person. As we talk to each other we look at each other with eye contact; when you watch something in film you don't necessarily see that so I really concentrated a lot on the eyes.
INTV: This film shows the first time Elvis went into the audience so it's interesting looking at the old film and looking at your version of the decisions of what to keep and what to cut.
RICK: Right. Well, I would say Elvis going into the audience was taken out basically because they did not want this expectation the next time he did a show. You know, I'm going to go out and I'm gonna spend two to three hundred dollars in 1970 to get front row seats. So if you were to go to Las Vegas for the next group of performances and spent three hundred or four hundred dollars and bring your best girl or your wife who wanted a chance to meet Elvis because you saw in the film that he came into the audience. And if he didn't, you'd be highly disappointed. So I'm sure it was a calculated decision not to make a statement: "Elvis loves to walk in the audience and interact with the fans." But he was his own man, he just did what he wanted. And the fans respected him. That's the thing to watch in this film. Watch how they're friends getting together. There's a relationship between him and the fans and these are not people who are tending the show, these are fans and he knows who they are and he's acknowledging them during the performances. He's not ignoring them. He's with them and in a way he's probably a fan himself. He's a fan of the music he's performing, he's a fan of the band. In one way, he's on the stage and the other way he's in the audience, looking at what he's put together.
INTV: We've talked about what you've done visually with the film. What work have you done with the sound?
RICK: When this film was originally released it was released in theaters in mono. That's one single sound source. We found the original sixteen track masters so we were able to go in the studio and digitally remix this from the sixteen tracks so you could now hear things that you never heard before. The person who was my remixer on this project is Bruce Botnick. I chose Bruce because Bruce had started with Elektra records in 1965. He was the engineer on all the Doors albums and produced the Doors' LA Woman album. In fact Jerry, which very few people know, played bass on that entire Doors L.A. album. And he was asked to join the Doors that summer as an official member of the Doors. There was gonna be a fifth member of the Doors and that was going to be Jerry. What happened was obviously he went to play with Elvis that summer and Jim Morrison went to Paris and died so he stayed with Elvis. But Jerry was originally slated to be the bass player of the Doors.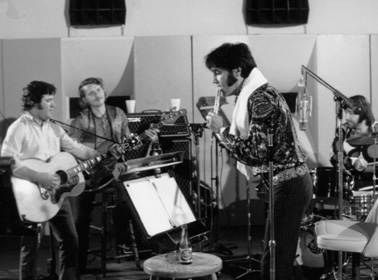 INTV: It's lucky if you play with one legend . . .
RICK: Jerry was incredibly well liked by Bruce. The other thing was that my engineer who worked on the remixes with me also came from that same era. And that was good because they were able to understand what we were dealing with and how we could advance it versus going back and trying to figure out what they did back then. These guys knew it. But Rick Pecelman who was doing the mixing with me on the show. He had worked with the band on the Roy Orbison special that aired about ten years ago. And this was the same band. So he's worked with all these band members so he understood James and Ronny's sounds. Rick was another person who actually cut his teeth at MGM working on delivering Elvis masters around the city for PR purposes. So I was dealing with people in the studio who are at the peak of their careers now but came from that particular period of time. For instance Bruce had seen Elvis perform in Las Vegas on the next group of tours. He's the most desired sound mixer now in music. He's a producer who's produced probably four hundred albums in his career.
INTV: Talk to me a little bit about what the audience is going to experience at the beginning of the film as opposed to the portion that's almost an intact, full concert?
RICK: Well, what you experience in the beginning of this film is, you stay with him. You realize in the rehearsal how he structured his music, unlike the previous film where when something important was gonna happen you'd cut to a fan. It's like when something really exciting happens on television they cut to a commercial. But with Elvis, you see we try to keep the mistakes in, we try to keep all the little interesting innuendoes in the film to make it work properly, to make it play naturally. What we didn't try to do is embellish it with our interpretation of Elvis but more of what was going on at the time. You're going back in history and you're standing in a room with Elvis Presley and his band in Culver City. You go to Las Vegas and you're seeing how the choir is starting to be assembled. You travel to Las Vegas with Elvis and you see intimately his relationship as they all get together. Then you go on to the stage of Las Vegas for another rehearsal and you again see Elvis with his entourage and how he relates to each person. Finally when he gets on the stage you have a clear picture of exactly what he's about. And it changes your interpretation of each song, because you realize what each gesture means on the stage. And how natural he really is, he's trying to be just himself.
---
That's The Way It Is – den ultimative guide
Har du læst disse temaer?