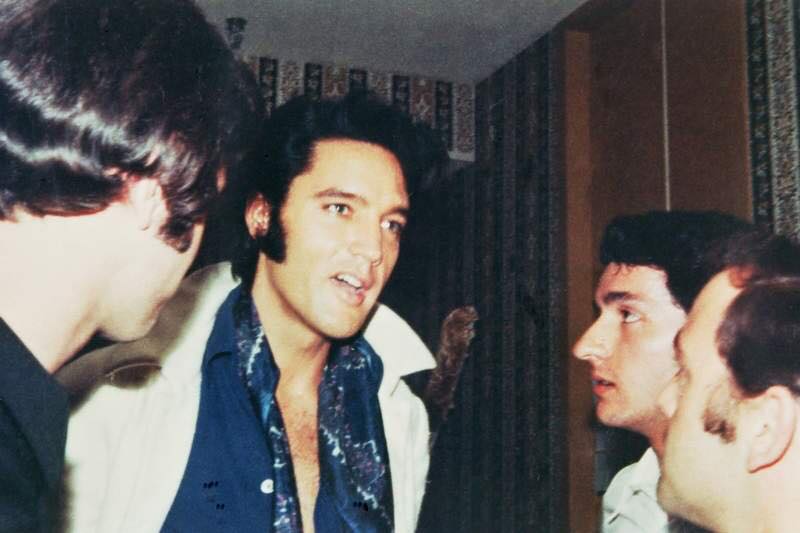 En sød lille historie om en fransk fan, som rejser til USA for at se sit store idol.
By Mathieu Minacapelli
I'm an Elvis fan from France since 1963 and I've known Elvis by his Rock'n'Roll music.
When I heard that Elvis must comeback on stage in Las Vegas in August 1969,
I was sure that we must go to see him in person!
So I left France for the United States with three friends. We arrive in "New York" After we take the "Greyhound bus" for Memphis and I will see Graceland" for the first time. We stay just one day in Memphis because what's important is Elvis And he's in "Las Vegas". We arrive at the Promised Land on august 11, 300am. We're so impatient that we'll Go directly at the International Hotel and we can go inside the showroom!
We can't book seats for the 11 but at 12 in the morning we are
the first to get our seats For the Dinner show! We meet the manager of the International "Emilio" (That we can See in the movie "That's The Way It Is") and we explain him that we are Elvis' fans etc…
We go with him in his office and he gave back our Letters that we sent from France with the money in, to book the seats for a concert! Later on, we'll become friends because he's Italian.
After we call Tom Diskin and we meet him in the afternoon in the International Hotel Cafeteria where we can talk about an hour about Elvis' artistic career, his movies and the last TV Show, Etc… In short he will tell us: Believe me, tonight you'll not be disappointed!
But before we left, we ask him if it's possible to meet Elvis? He just answered that it's very Difficult because too many people want to see him, but he will try!
The evening of the 20h, we are at the Dinner show very exiting! We see the Sweet Inspirations and Sammy Shore before the great moment that we expect for the long years arrive.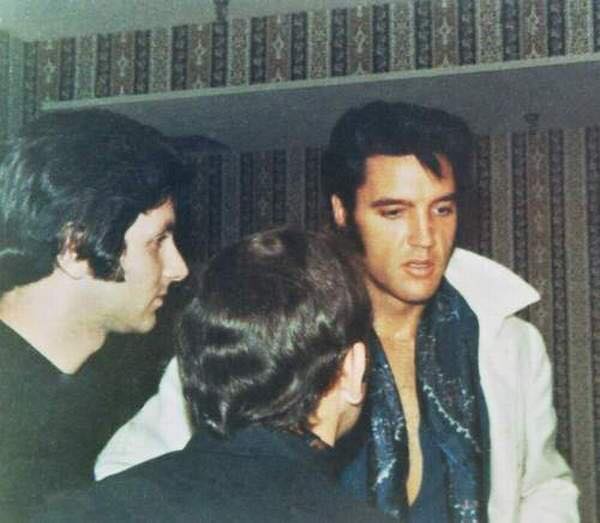 Just a few minutes before the show will start, we see the Colonel and we call him, He tells us: Oh, you are the French; I'm going to try to have Elvis meet you! A few minutes Later he goes back and he says to us: At the end of the show don't move from your seats, Somebody wants to see you! We are crazy! And we can't think about it because the Concert has started! Oh how beautiful are these first minutes! And everybody must know this, Elvis in 69 was "Rock'N'Roll"!
In all songs he moves in an incredible way! It was not like the fifties but he was as Wild as the 50's And in fact better! We are stunned for what we'll see as his Comeback on stage! It's the King of Rock who sings in front us! We thought that Elvis wouldn't move again like that. But he shows also that he is a great showman with An incredible voice! A the end of the Show for sure not one of us will move from Our seats, while the people leave the showroom..
Then Colonel Parker came to search us and we follow him. We arrive near
Elvis' "Dressing room" where there are many people and Paul Anka is here!
We're waiting exiting and Nervous! Finally we can go in the "Dressing Room" and Elvis comes to us shaking hands with a large smile. Vernon Presley is there as well as the Colonel. Before all Elvis thanks us for coming all the way from France to see
Him. What imposing presence! However after a moment we are relaxed in front of Elvis who talk to us! What class! Also in 69 he was in the best, good shape More than ever!
Elvis asks us if we liked the show? You can imagine our answer! He asks if we'll Go back to see him on stage! We tell him that we'll see him several times. He wants To know how much time we stay in "Vegas" and we answer "till we are Broke! Big laugh and he said us, if you have a problem you can depend on me!
He remembered very well Paris that he visited when he was in Germany for the Army. He said that she was a wonderful town. When we talk about the 60' movies, he didn't Want to talk about so much. He has a contract only to respect, that's all.
He said what's important now is my comeback on stage!
So we ask him if he'll come to sing in Europe and he'll tell us that was impossible For 69 but he hopes for the 70'…we ask him a favour, if he couldn't in a next show To move like in 56 and a friend of mine move in front Elvis to show him!!
Elvis laughs till he cries! I can never forget this! You can imagine the scene?
We'll take five pictures with Elvis and I have an autograph "To Matthew from Elvis Presley" that you can think as I keep this souvenir!
We left Elvis after almost fifteen minutes and he'll give us for a present the Midnights show in the front row! This was another great show!
I stayed in Las Vegas till August 25, and I will see six shows.
Sometimes I saw Elvis at the International signing autograph for people.
You can imagine that this for me an unforgettable souvenir.
Unfortunately we don't have so many videos from 69 and what a pity!
Because I say it again, Elvis in 69 was different! The photos we got prove that!
The people that saw Elvis in 1969 in the U.S will agree with me. For me this period is Unrivalled, there was spontaneity, humour, with a great voice.
He's still the King of Rock Music!
---