And so it begins…
I picked through my parent's attic back in West Hartford, Connecticut when we visited in the fall of 1974, Vicki and I. We were newly–wed; Vicki was seven months pregnant. My mother happened to notice; I headed upstairs and left them alone in the kitchen to sort that one out. I entered my room, went into the walk–in closet, opened the attic door, and climbed the steps.
Up there were things I had not visited since I left for college a dozen years before. There was my collection of baseball cards, remnants of my once–massive collection of 45's, and the one thing I had judiciously guarded and that was 99% intact: my collection of Elvis Presley 45's and EP's. Elvis has been my favorite male singer since he burst onto the national scene in 1956.
I bundled the baseball cards and the Elvis records into my suitcase. When we got back to Los Angeles I decided the baseball cards had to go; we needed the money. I took them to a Santa Monica Boulevard sports memorabilia shop and walked out with $100. One of them was the 1951 Topps Mickey Mantle rookie card that sold for $225,000 years later. I have no regrets; that deal dramatically changed my life. The money was tucked away; it would be used only when desperately needed.
The Elvis records were filled with memories and I decided to keep them. Nostalgia was beginning to play a role in my life. I planned to reconstitute my Elvis collection, get all those that I mysteriously never purchased. This decided, I wondered just where to start my quest? I began scouring record stores. Try as I might, I found but a scant few of the Elvis records I wanted; most were in unsuitable condition.
In a bookstore on Melrose Avenue, in the heart of the Antique District of Los Angeles, there were boxes of records under every table. A fellow named Brian Burney rented space from the bookstore owner so he could display his wares. Where else to put them? Thanks to Brian, I acquired a dozen 45s I needed. Brian will be back soon, in a starring role. About this time I realized there were many other Elvis collectors out there; not much later I was trying to add to everyone else's collection.
Next, I discovered The Recycler. The paper was distributed every Thursday morning, starting promptly at nine; in 1975 it was in its infancy. The Recycler let individual sellers list items for free (commercial businesses were charged); many Thursday mornings I was waiting outside their offices for that week's offerings.
One week's paper listed an Elvis collection; I called and made an appointment to go look at it that night. We drove to Pomona, some thirty miles distant, and found a complete collection of 45's, all with picture sleeves; all the EP's; many duplicates, and the elusive Sun 78's. The asking price was $400. I left a $100 deposit (that desperation money) and promised to be back tomorrow.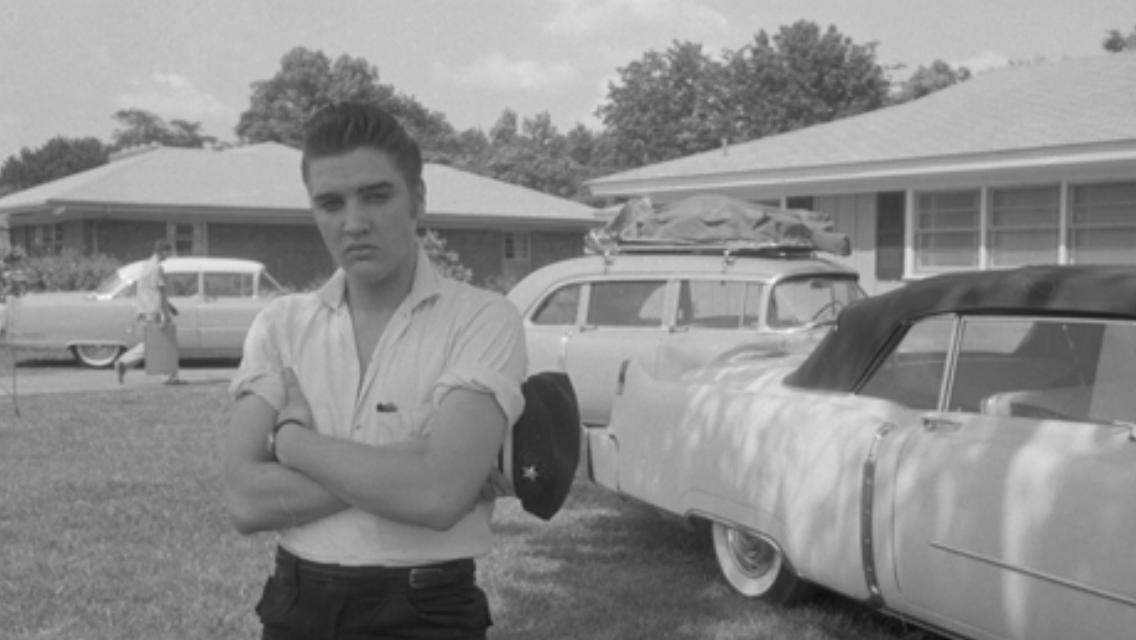 One small problem remained, just where the heck was I going to get the other $300? A trip to Household Finance solved that problem; I went from Elvis collector to one with an Elvis collection overnight. I did not think there was much more I needed; I was almost done. I suddenly had a surfeit of Elvis records, since my purchase included duplicates of many of the 45s. This was trading fodder; I could haggle with other collectors for the items I did not have. It was not as easy as I thought, for I soon found out there were variations, promo–only items, reissues, and even a few bootlegs.
All that I really knew about bootlegs was that years before I had purchased an album titled "Last Live Show" that boasted the Beatles at Shea Stadium. It had an 8½ x 11 Xeroxed sheet under the shrink–wrap, a plain white cover, and the label was blank. All I heard was screaming, hysterical fans and way, way back in the distance something resembling a Beatles tune. Such was my experience with bootlegs; I never purchased another.
Not until I heard about, from another collector, an LP called "TV Guide Presents Elvis" and a man named Paul Dowling. I called Paul, not quite sure how to proceed, but wanting to pump him for information about collecting and about this record he had made. Not in the least aloof or pretentious, he came across as genuine and sincere; he answered my questions about Elvis collecting, offered invaluable information, and suggested other collectors to contact. When it came to the TV Guide record, something I found quite intriguing, Paul mentioned he was hoping to make another bootleg—this one a document encompassing Elvis' first six television appearances on The Dorsey Brothers Show in early 1956. Huh? Never knew that. My first recollection of Elvis on TV was the famed Ed Sullivan appearances. It turned out the first Sullivan show was Elvis' tenth bit of national TV exposure. I sure had lots to learn. Paul and I quickly became good telephone pals. At that point, Paul had only managed to acquire three of the six Dorsey appearances; I set about to find the others.