More brushwork & more luck
Glen Johnson, my buddy from Canada, had an Elvis songbook that contained a great picture of Elvis; he had never seen it anywhere else. It was a head–to–toe shot of Elvis in the western garb he wore on stage for the concert sequence of that movie. Holding his guitar by the neck, slung over his right shoulder like a baseball bat, we see Elvis from the left side, in a three–quarter view, hair slightly mussed, hooded eyes, and the beginning of a cocksure grin spreading across his face. Young, brash, raw Elvis, the one that just plain sent girl's hearts a–fluttering and had boys standing in front of the mirror for hours trying to get that sneer just right.
This picture let us grace the entire front and back cover, but I wondered about how to get rid of the creases. It was Paul's idea to use this picture on a fold–out album so that the front cover would show Elvis' head and torso and then wrap around and continue on to the back cover so that, when opened, a twice–normal size cover would show Elvis from top to bottom. To accomplish this, the "top" of the cover would be 90º to the right of the standard position and the album would open like a book.
I received the magazine from Paul, took a look at what had been described to me; I immediately knew it was going to be among the finest Elvis album covers ever conceived. I got to work on the lettering for the title and song listings, took all the artwork to the folks in downtown L.A. who prepared our negatives and transparencies, and placed it in their capable hands. I left thinking that a week later I would be at the printers, watching the first sheets roll off the press.
It wasn't quite that easy. The magazine photo had to be enlarged to match the dimensions needed to fill the fold–out cover; that much I was aware of. However, I knew nothing about "aspect ratio," meaning the length and width had to be enlarged equally or the result would appear stretched or bloated. Getting the picture to fit from top to bottom was easy, but it didn't fill the cover from left to right. That would not have mattered if this photo had "all" of Elvis to each side as it did from cowlick to cowboy boot. Alas, the picture was cropped on each side, and both ends of the guitar were missing. That would never do, not unless the picture was enlarged enough to fill the cover from side to side. But that meant Elvis would be cut off at the knees due to the aspect ratio. Would we have to scrap this cover idea because the photo could not be resolved to satisfy the cover specifications? No, this picture demanded a fold–out album. Could we put a border on each side? We played with that for a bit, but it only detracted from the effect we wanted. The answer, of course, had been right in front of us the entire time. We had just finished the "Hawaii Benefit Concert" LP; an L.A. artist who proved quite talented with an airbrush had resolved photo problems with both the booklet and the cover. That was black and white; this was color. The Hawaii booklet involved "touching up" to sharpen blurred images, or "filling in" to make washed–out areas contrast correctly with the rest of the picture. To make this picture suitable for an album cover required creating something that didn't exist. Not only that, it had to blend well enough so that the addition would not be obvious.
I didn't hold out much hope when I traveled downtown to explain our dilemma. I brought along a few copies of the Hawaii LP and showed our airbrush artist what a terrific job he had done. This, however, was a daunting task; I was prepared to hear him tell me I was asking for too much. Not so. He simply said he needed to know the exact dimensions to ensure the entire guitar would be visible. He would be working with the original magazine photo, and he would do the math for the enlargement. He wanted to be sure the guitar he completed would not be cut off when Elvis was blown up to cover both the front and back cover. The final product was a tight squeeze, Elvis fitting nicely just beneath the lettering. The guitar? I had to look twice, and then look again to see where the original photo ended and his airbrush additions began. The colors were matched perfectly; it was seamless. That he not only added the end of the guitar, frets and all, was remarkable enough; Elvis' fingers were also completed, the skin tone perfectly matched. I would have never thought it possible. A very close inspection of the cover revealed a fine line that indicated something had been altered. After the album was shipped we told a few of our friends what had been done and where to look. Everyone was astounded; it was that good. The creases from folding were also removed; there was no indication they ever existed.
The Milton Berle Show, the "King Creole" outtakes, an unreleased interview, and Sun outtakes complemented one another nicely. The inside cover displayed a number of photos seen here for the first time; the LP was visually striking and rich in content. Mission accomplished; this was the best–looking album we had produced to date. We were getting better, which was obvious. Now all we needed was more unreleased material to test our mettle once more. A new episode of the "Travis and Andy Show," and a pointer from "Cary" fixed things quite nicely.
I picked up the first pressings of "The Rockin' Rebel" late in the afternoon and made my now–obligatory stop to drop off a few copies at Turning Point. This time, Travis was back from the distributors. Intending to do nothing more than leave a few copies at the store and get Streisand's new album for Vicki, I wound up getting more than we had ever hoped for. Travis, in his usual low–key manner, told me that friend Andy had worked on the material that NBC would use for the re–showing of the special aired last fall. This was a rebroadcast of the 1968 "Singer Presents Elvis" combined with the 1973 "Aloha from Hawaii" special. The show was hosted by Ann–Margret and contained some never–before–shown footage.
The show aired in November 1977 and was going to be rebroadcast in August 1978. The November show had the song "Blue Christmas" and this time it would be replaced by "Tiger Man." Another technician worked on the outtakes for the November broadcast; this time around they fell squarely in Andy's lap. Andy made copies of everything for himself and asked Travis to see if I wanted copies made for me. Travis did not know exactly what Andy had, but said he would find out. I told him I would be back before the store closed and to please call Andy right away. I went home, rushed through dinner, called Paul, told him something big could be brewing, and scurried back to the Turning Point. Travis had gotten in touch with Andy; Andy would be happy to make copies of what he had but it would take two or three days. Why so long? Because he had almost ten hours of outtakes from the 1968 Special in addition to an "Aloha from Hawaii" concert that was given the afternoon before the actual worldwide broadcast.
Oh my! Did he really just say that? Were we really going to get ¾" studio–quality copies of what NBC had tucked away all these years? We were and we did. Over the course of three nights, Travis brought videotapes to our house and I sat back to watch. I hooked up our Pioneer ¾" to the Betamax® machine, made copies for Paul, and sent them off the next three mornings. We were just plain astounded! Since these tapes came from NBC, the quality, both audio and video, was perfect. We watched the hours and hours of taping that took place to create a fifty-one–minute television special. We wanted outtakes; we got outtakes! There were a total of ten tapes, some longer than others, and we wound up offering them for sale in our catalogue. We cut the list down to nine immediately, because one of the tapes was rather short. It was really nothing more than different camera angles of some of the material on another tape. It seemed to us that if you bought both tapes you would think you had been deceived into spending more money than necessary. We couldn't have that, so we removed it from the listing. Below is the catalogue page that offered these videos; the descriptions show how varied they were, and how much was now available that had not been broadcast.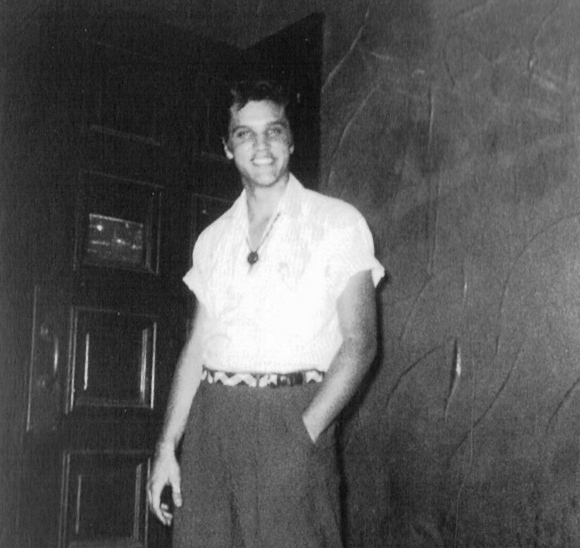 The audio from these tapes provided us with enough material for two double albums and a single LP. We also had plans for a "Rockin' Rebel Vol. II" and another LP that would feature the songs from the movie, "Viva Las Vegas." Like "Loving You" and "Jailhouse Rock," this movie soundtrack differed greatly from the versions of the songs released on record by RCA. We had the audio for "Viva Las Vegas," and, thanks to Paul's worldwide collection we had it in stereo. RCA had put the movie songs out on an EP, did not include the duet with Ann–Margret, and released it in mono. Oddly, it was issued in New Zealand in true stereo. Paul had that EP. We needed to come up with a striking cover before we could get to work on that album.
First, it was time to get busy and make the first double LP from the NBC tapes. It would be called, "The Burbank Sessions Vol. 1" and would have the two "sit–down" shows from June 27. It would also have, thanks to Virginia Coombs, a sticker on the shrink–wrap that said, "Bonus Tickets Included." I borrowed Virginia's tickets and took them to Bill at Glendale Instant Print; just like before, he matched the originals perfectly. Did I say "busy?" I had to make all the usual stops required before I could pick up the albums: typesetter for cover printing, label printer, photo lab for negatives, sticker maker (notice on shrink–wrap), fabricator (glue printed covers on cardboard), recording studio, pressing plant (deliver master lacquer), typesetter to prepare flyers, printer for flyers, printer for souvenir tickets, and the mailing service. None of these were one–stop ventures. All had to be visited at least twice (delivery and pick–up), while I went to some three or four times because I had to check on progress. While doing that, every day there were orders to process, fill, and ship, catalogues to address and mail, visits to storage areas to bring inventory to our shipping headquarters, treks to deliver orders for and pick up finished videos, and trips to Hollywood Cine Labs to pick up films.
Somehow, I managed to do it all. How nice to be young and strong. Now, it makes me tired just thinking about it. If you thought that was enough to keep me busy, I had one other project that ate up lots of hours and had me driving all over L.A. I was on the trail of the studio outtakes from all those Elvis movies filmed in the early '60s. I had scant information, just a couple possibilities to pursue thanks to "Cary." But, as you'll see, Charlie Chan, Sgt. Friday, Boston Blackie, and Bulldog Drummond had nothing on me.