Outfoxed
I tried to figure out just what I could do to make things better between Vicki and I; I could only be me and let her know I loved her. She'd come around; family was most important and things would get better. I plunged back into work, harder than ever. Getting a new album or two together would keep my mind occupied; Paul and I decided it was time for a couple more; we had the "Aloha Rehearsal Show" and "The '68 Comeback Vol. 2" yet to do. Those wouldn't be bad, but they didn't offer the fans much they had not already heard. We had more outtakes, but not enough really good ones for a standout album; what we had left would make nice filler.
Elvis' soundtrack albums had some just plain awful songs mixed with some very good ones. Only Elvis could have generated the sales those albums achieved. Why RCA had not issued soundtrack LPs for "That's the Way It Is" and "Elvis On Tour" was a mystery. They had released a TTWII album; it was just a tease, the movie contained much more. Even now, with Elvis gone over two years, these LPs were not part of RCA's plans. If they had a plan. The output from Elvis' parent company was dismal. What were they waiting for? We'll never know, but we knew the fans would love to be able to play records that contained the songs from those movies.
It had been six months since the Feds visited me; that they had not returned meant that "The Bulb" had done a good job calling their bluff. We pored over pictures taken during the shows featured in those movies, rented the films and taped the soundtracks. We put together two new releases that our customers would enjoy. We even paid homage to RCA by putting the little piece of filmstrip on the cover that signified this was an "original soundtrack" recording. We decided to release the "Aloha Rehearsal Show" at the same time; who knew how much time we had left? This thought was coupled with the fact that we had been selling the video for some time and many of our customers had written and asked if we were going to make the show available on LP. That left us with but one album for a future release, "The '68 Comeback Vol. 2." We'd come up with something else before long; we always did.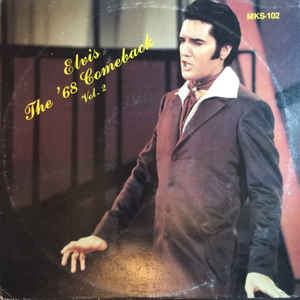 Yet to be found, but out there somewhere, were the first Milton Berle show and the Frank Sinatra "Welcome Home Elvis" special. Sinatra was just a matter of time; we had someone with an "in" to the Sinatra family that would get it eventually. We were always chasing after the Million Dollar Quartet tape, always wondering if it actually existed. More movie outtakes were always a possibility, acetates could turn up at any time, and we might find an audience concert tape that would be the same quality or better than the New Year's show. Lots of maybes, nothing imminent, and then Paul got a call.
Being known as the world's biggest Elvis collector has its advantages; some of the material we released found its way to us thanks to Paul's reputation. Some things we could have had or almost had. Two classic examples of "so near and yet so far" stick out in my mind.
A woman contacted Paul and said she had a couple Elvis concert tapes for sale. She left a phone message; Paul got back to her a couple days later. It was merely a courtesy return call; tapes of Elvis concerts were overpriced at a dime a dozen. Quality audience tapes were a rarity. It turned out that this woman had tapes of fair quality, about the equivalent of the 1961 Hawaii show. However, they just happened to be from a couple performances five years before the benefit concert. Elvis did two shows in Tupelo, MS, his birthplace, back in 1956. One in the afternoon, one in the evening, and one darn nice thing to do. The fans from Tupelo and the surrounding area could have trucked to Memphis; but Elvis went to them. It was amazing to think a tape actually existed; RCA wasn't smart enough to tape it. RCA, like the rest of the industry, thought rock 'n' roll was just a fad that would go away. Soon, they could get back to business as usual and Tin Pan Alley would thrive anew. Okay, they all called that one wrong. But, Elvis was such a phenomenon, bigger than anyone ever before, they should have wired the kid for sound. I would have recorded him eating his dinner and snoring; it would have wound up on an album somewhere. Elvis simply owned the charts in 1956 and 1957; in 83 out of 104 of those weeks one of his singles was in the #1 slot. And RCA threw out the outtakes from his first couple studio albums because they needed the space! I know what you're thinking, but it's too late. The ones responsible are all dead now.
The asking price for these tapes was $50,000. They were worth it; the timing was what was wrong. We talked about it, batted it around for weeks; we just couldn't sink that kind of money into something, no matter how spectacular, when the FBI was, for all we knew, poised to pounce at any given moment. We could have put out two ten-inch LPs, another first for bootleggers, and recouped the investment on the first one; we were certain of that. We had a double ten-inch LP set if we wanted. These shows ran a bit over twenty minutes each, standard practice for an act in those days. They were not studio quality. It would be up to Larry to determine how to proceed. However, what if we went ahead and bought the tapes, made the albums, and just as they rolled off the presses the Feds showed up at Waddell's and confiscated them all? We'd be out over seventy thousand dollars. If only she'd contacted Paul a year earlier. Vic's reputation would have been further enhanced; the fans would have been ecstatic. It was not to be; we had to take a pass.
Elvis served in Germany after completing his stateside Army training. While on leave, he went to Paris and saw one of his favorite gospel groups, The Golden Gate Quartet, in a small Parisian nightclub. It was rumored that he joined them on stage for a few numbers. That's all it was, just a rumor, and all but forgotten. Even if he had, no one ever said the performance was recorded. You had to be there.
Paul got a call in 1978 from Rick Whitesell, editor of Goldmine, who said he had a tape of Elvis performing with The Golden Gate Quartet. He also had pictures of them on stage together. Paul was skeptical; he wondered if Rick was on the level. But not for long. The tape was played for him over the phone. What did Rick want? He wanted us to put it out as a bootleg. Rick was a paraplegic, didn't have long to live, and our albums gave him pleasure and comfort in an existence that had little of either. He'd followed our progress from the first LP, was overjoyed by the twelve albums we had released thus far, and wanted to give something to us and to Elvis fans.
How did he get this tape? How long had he had it? Did anyone else have it? These were a few of the questions in Paul's mind. Rick had a couple more conversations with Paul; he couldn't talk long without becoming exhausted. He said he would get his mother to send Paul the tape. A couple weeks passed, no tape arrived. There were no more phone calls. What could have happened? This was no prank call; Rick was sincere, a man of integrity. Paul heard the tape; it was great quality. Although not long enough for an album, we talked about making a 10" LP. It would be another first for Vic Colonna; another collector's item for Elvis fans. Paul waited another two weeks before calling. His mother answered and told Paul her son had died a month ago. Paul offered his condolences and hung up. Now was not the time to ask about a tape.
Paul waited three months and called back. He said he was really sad, and he was, to learn that his new friend has passed away. He explained who he was and Rick's mother thanked him for the albums that gave her son happiness in his final days. As gently as he could, Paul brought up the subject of the tape. "He never mentioned it to me. If he had I would have sent it to you right away. He had a very tough last couple weeks and may have forgotten to tell me." Paul offered to describe the tape and perhaps, whenever she had time, she could look for it. "I wish I could help you, but the Elvis collection is gone. I just couldn't bear to see it any longer. I cried every time I looked at those things and thought how happy he was when he played his records. I donated everything to a local college. Let me get you the name of the person that I spoke with. Perhaps they can help you."
A phone call got us nowhere. The material was sitting in storage and the school had no idea when it would be gone through and placed in circulation or assigned to the reserve area. Periodic checks were futile. The tape, possibly unnamed, or with an obscure–looking title that drew no interest, is still there. In some storage area, in some box, on some shelf, sits something that is every bit as legendary as The Million Dollar Quartet. Libraries hold onto donated collections. They get rid of old books that no longer command attention to make room for the new. But, when it comes to a donated collection, they are like museums: they tuck away what does not go into the public area. It's still there, I'm sure of it. If I could present bona fides showing me to be a writer, I could probably access the stored items by saying it was research for a book I am writing. I just may do that.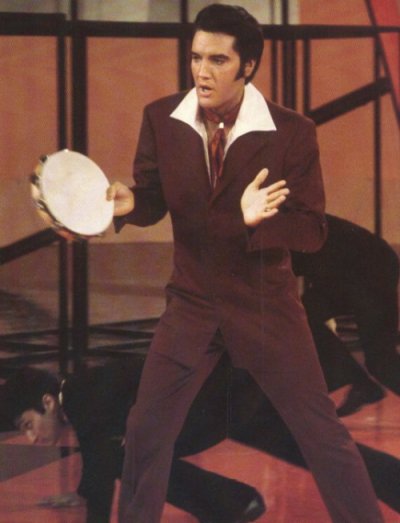 It was nearing summer of 1980; the albums were slated for release in early June. Three fine–looking albums they were, all were on the Amiga label. Audifön was retired; we lifted this one from another West German company. We'd been at this for some time now; most of our customers probably thought these albums were legitimate imports. The U.S. and German versions of the album, "G.I. Blues" differed. One song could not be released in Germany because of some publishing issue, and was replaced with a similar tune. We capitalized on that, a fact well known to Elvis fans, and intimated that the U.S. release of these albums was delayed by a songwriting dispute.
There had been no further contact with the FBI, not with us. However, Paul's mother was upstairs in her house one day in January when the doorbell rang. She opened a window and looked down to see who it was. Two men held up badges and one said, "Will Garrett, FBI. We'd like to speak with Paul." Mrs. Dowling erupted. "You get out of here, right away. You leave poor Paul alone. He's done nothing wrong. If you don't leave this minute I'm calling the police. Get lost. Don't you dare come back again." Mothers are special.
My mother came out to visit all by herself that spring. Vicki dreaded it. I told Vicki, "Just go along with her; it's only for a few days. Why argue? Just agree with her and before you know it she'll be gone." A few months later I found out how wrong I was. We were down at Buddy's in Capistrano Beach, the subject of my mother came up, and I iterated my philosophy. Buddy's wife, another Vicki, told me, "No. It's Vicki's house. When your mother comes to visit she has to play by Vicki's rules. When you visit your mother you play by her rules. She can't come to your home and tell you how to live." She was right; I'd been a jerk. I should have laid the law down to my mother; there was never another opportunity to right that one.
Before the inevitable occurred, before my children were minus a mother or grandmother, it was time to take mom to the airport. Just after I kissed her goodbye, I shoved an envelope with two thousand bucks into her sweater pocket. The next day she called and told me that when she saw what I had done she was "petrified" the entire flight. She was worried someone would steal it from her. Not too many stickups on planes, mom. She once told me that every time she drove under an overpass she said a prayer that no one would throw a rock through her windshield. Mom loved to worry; glad I didn't inherit that trait.
Just before the new albums were ready to be shipped to Paul we got a strange letter. It was from the Harry Fox Agency, a New York firm that collected royalties and distributed them to artists. The letter informed us that we must cease and desist making Elvis Presley records because songwriting, publishing, and performance royalties were not being paid. I contacted "The Bulb" and asked what we should do. "Send them some money. It will make you legitimate."
Sound advice. That's what we did. We sent Harry Fox a check for $10,000 and wrote "Elvis Presley royalty payment" on the little "for" line in the bottom left corner of the check. On the back of the check we printed, "Payment for royalties due on Elvis Presley albums through June, 1980." We xeroxed the letter we received, wrote "Payment Enclosed" on it, and included that with the check. We thought, "Maybe this will do it. It's always about the money. They'll ask for additional royalties, we'll bicker and dicker, and we'll be able to put out more albums." When that check cleared we were going to celebrate by meeting up again in Las Vegas and having dinner in the Imperial Crown Room.
It wasn't just about the money. The check was returned. That was all, no letter, no explanation. Just the check arrived in an envelope from Harry Fox. The air went out of our celebratory balloons; we thought we had them. They outfoxed us. Next thing we knew, Paul was being foxy and trying to finesse a name and address from Paul Lichter. Lichter said he knew someone who had a tape of the Million Dollar Quartet. Paul Lichter had exaggerated more than once, could he really lead us to the ultimate prize for bootleggers?