The Legend Lives On
While pondering what to do next I took a step back and looked at what we had created. I was quite pleased with our most important business decision. The standard practice in mail order was to wait for a check to clear before sending the merchandise. However, that took no more than two weeks, and mail–order ads always stated one could expect to wait six to eight weeks for delivery. Why so long? I reasoned that if one took the trouble to write out a check, expecting the recipient to wait for it to clear, then the odds were decidedly in favor of the check being good. With that in mind, we shipped all our orders within a day or two of receipt. My assumption was justified when I later noticed that we had a total of $40 in bad checks from the first $100,000 worth of orders. The only time I waited for a check to clear was when it was over $100 and it was for films or videos that were far more costly to us. These were not stocked; they were made to order. We did later wind up having to stock films and video when demand exploded. You know why.
Nineteen seventy-seven was upon us, we were being assailed with queries about our next release from home and abroad, and we sure did not want to disappoint. Vic Colonna was becoming a bit of a legend in the Elvis world. So much so, that one of my fondest memories is a postcard I received from a fellow named Virgil in Orange County. He had drawn a great caricature of Elvis driving a truck, the job he held before becoming king, and, of course, singing while driving. The scene he created was meant to look like a movie poster and he had dutifully added the proper lettering: "RCA Presents Elvis Presley starring in, 'The Vic Colonna Story'". I sent that card to Paul and he still has it. We joked about Vic Colonna actually having a story for a while; before long, it was no laughing matter.
Next, Fred Whobrey came to the rescue. A collector friend of Paul's from Ohio, Fred somehow came up with studio quality acetates from Elvis' Las Vegas appearances at the International and the Hilton in 1969 and 1972. Some of the material had been released, but there were enough songs to fill an album that had never before appeared as live versions. For the cover, we liked the shot taken of Elvis on board a charter airplane during his September 1970 tour. A cropped version of this picture had appeared in a photo book put out by RCA, but Virginia Coombs in Redondo Beach had the full shot and it was much nicer. Virginia is a wonderful person and a great fan. She was one of the lucky 300 that attended the four shows at NBC in June 1968 when the Singer TV Special was filmed. Of course, she still had the tickets; they were proudly tucked in the edges of the frame of that photo we used. Had they been somewhere else, and had she not thought to show them to me, what those tickets looked like would have been known to very few. As it later turned out I made another trip to Virginia's to borrow those tickets (promising my first–born son as collateral) and thousands of fans got reproductions.
The last track on this LP came about rather unexpectedly. A fellow contacted me and boasted that he had this "incredible, unreleased, psychedelic movie" of Elvis; he wanted ten grand for it. Further discussions revealed that what he actually had was a videotape of Elvis singing "Bridge Over Troubled Water," filmed during a 1970 Las Vegas appearance. It turned out the audio was from an undubbed 1970 studio master. With all the distorted images it was impossible to tell if the sound is synchronized with Elvis' lips. Either the psychedelic effect was created at the time of filming with the camera, or it was added later. Does it matter? To visualize this you will recall those '70s movies where parts dissolved into a film on acid and everything became blurred, wavy, distorted, and all that jazz, with every color in a prism tossed in for good measure.
I told him that I could not buy a pig in a poke and he sent me a ¾" videotape of the performance. He had cleverly inserted a disclaimer line that took up half the screen and ran throughout, proclaiming himself owner, sole owner, only owner, etc. The tape was a bore unless you were into watching a distorted Elvis in a rainbow of colors do the kaleidoscope. That dance never caught on around here. I simply copied the audio and said thanks but no thanks to his offer. It should all have been so easy. As a matter of fact, in a couple cases it was; they just involved a bit more subterfuge. We pulled some strings over the years—twice the puppets on the other end were higher–ups at RCA.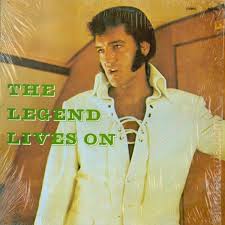 The album was called "The Legend Lives On," and our now–standard first order of 1,000 soon needed replenishing. I also needed some help; Paul was on the other side of the country and it wasn't possible to split the work evenly. I had, by now, become a veritable fixture at the post office. My once or twice weekly visits to get packages weighed and postage affixed had turned into a daily regimen. In accordance with this, I purchased a postal scale and obtained a copy of every guide the post office published regarding mailing rates here and abroad. These contained details about customs forms that needed to be affixed to packages going to different countries. There was no standardization or any rhyme or reason detectable, but I soon had it all memorized. From that point on, I went to the back door of the Post Office and loaded my packages into a tub; all had the required postage written in the corner. They knew I knew what I was doing; this practice saved us both lots of time. They metered the postage, slapped the sticker on each package, and I returned before closing each day to pay my bill. Having learned a thing or two about being nice to those you work with, I showed my appreciation the following Christmas. I had five cases of wine delivered the week before Christmas, one for every Post Office employee, and the window personnel and the manager each got a personal gift. A year later the carriers got the wine again, but the counter people all got TVs. Another win–win situation. The money spent on gifts was probably less than it would have cost me to rent a Pitney–Bowes metering machine. Plus, I avoided having to spend money for postage in advance to keep such a machine functioning. Even that would have meant extra trips to the Post Office to get the machine refilled. Time was turning into money. Plus, I figured the metering was not my job; no one ever suggested I should do it. They were so happy to have me not clogging the window for an hour every day; I doubt it ever occurred to them.
Two fellows named Rex and Dick were the main customer service personnel in those days; Dick had a son, Robert, who was looking for a job. Robert became my man Friday for the next four years. Robert did everything I asked, worked as many hours as needed, and without him I would have been unable to keep up with the demands. Loyalty was Robert's redeeming quality—he looked up to me as if I was something special. I paid $5 an hour and it did not matter to Robert what I asked him to do, or how many hours I wanted him to work. Making as much money as possible was Robert's goal; this was the perfect job for him, he was the perfect employee for me. Robert dropped out of high school as soon as he turned sixteen, something I tried to talk him out of, but since it meant he was now available all day every day I don't think I tried as hard as I should have. Robert was not interested in college or trade school, so he was probably better off with me. I sure kept him too busy to get into any trouble.
With this sorely needed assistance, things began to progress quite smoothly. I was doing all I could to streamline the operation wherever possible. We had gone from hand–addressing envelopes in a kitchen to needing a garage–sized space to store inventory and wrap packages. Then we went from there to space twice that size to process orders, wrap packages, and store a week's worth of inventory. A couple other garages were rented to store the bulk of the items. The albums were taking up a fair share of room—I had ordered another 500 of each so we would not run out. I was now buying 10,000 names at a crack from Brookville; I also searched for other places that had mailing lists of Elvis buyers for sale.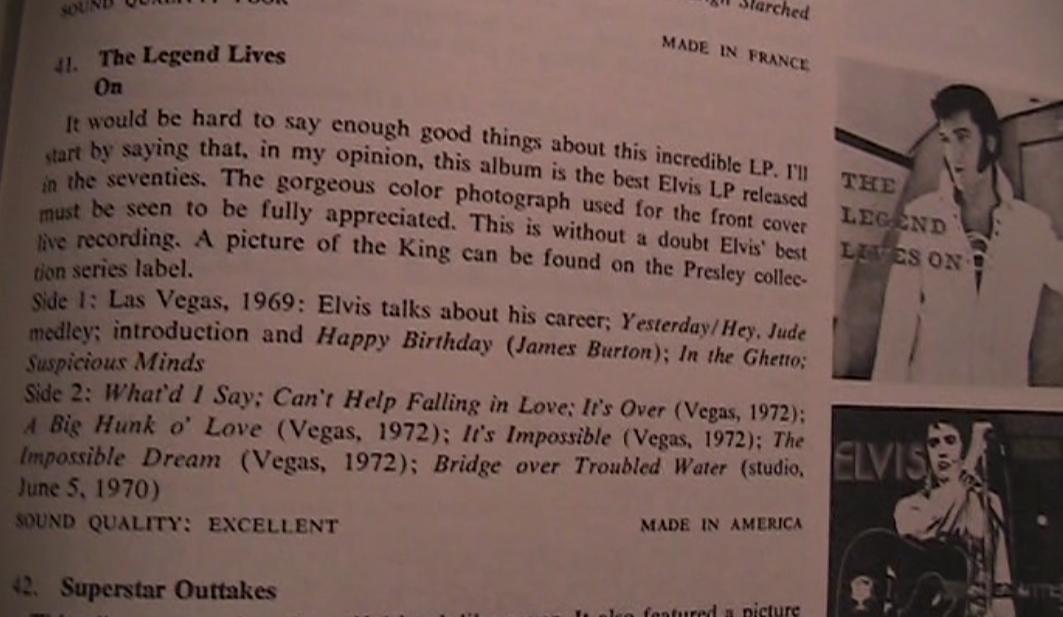 The best investment we made during this period was in something called a tape shooter. Before getting it, we unrolled the length of tape needed to wrap the package, cut it with scissors, wet it with a sponge and then applied it to the box. This gizmo held a giant roll of paper tape—we used the asphaltic kind that had string woven into the paper and was so sturdy it added a protective layer—and, with one pull of a lever, regurgitated a thirty–inch length of tape moistened and ready to be applied. I purchased boxes that were specially designed to hold one, three, or five albums; all were perforated so they folded quickly and easily. Cardboard squares filled any extra space, and I devised a scheme to make filling orders as easy as possible. As I opened each order I filled out a mailing label. I added a two– or three–letter code in the lower left corner of the label that corresponded to the items ordered. I never kept track of what was sent, never insured any packages, and got but two or three complaints a year that something had not arrived. In that case I did the same thing I did when someone complained the record they received was warped: I mailed a package the next day, first class, with a replacement for the item not received or defective enclosed. No questions asked. I also included another album or some trinket (depending on whether the initial order was for LPs or paraphernalia) to compensate for their trouble. I also included a stamp to negate the expense of having sent a letter; if they had returned a record I enclosed a check for the postage incurred. When someone inquired about what to do with the warped record they had received (a rare occurrence except for one nightmare I'll tell you about) I simply told them to throw it away. I had no use for it and why would anyone lie about it? When someone first complained, they had no idea how the situation would be handled. When they saw how we handled things, it just further cemented Vic's reputation for quality and integrity.
Thus, 1977 began quite nicely: we had a fifth album in the works and its release gave us a new best seller. Our mailing list was growing; our product was as appealing as we could possibly make it. Each successive album represented a more professional touch than its predecessor. With the Sullivan album we had started including liner notes to accompany the material and we had plans to do each album bigger and better than the last. For our next release, whatever that might be, we were set on full color for the front and back.
We did just that, got a bit too fancy in the process, and wound up with a delay in shipping that was embarrassing. It also proved to be the luckiest break we could ever have asked for when we got something no one ever wanted.