The runaround
Preparing, producing, and marketing the records took up a fair amount of time; since Paul was in Maryland and the orders came to California, the brunt of the work fell on me. I didn't mind; I loved what I was doing and was determined to make this operation successful beyond even my expectations.
Paul was busy tracking down films and we both, of course, were on the lookout for new material for a record. I had done some calling around to film labs in the area and found one just below Glendale, where Brand Boulevard turns into Glendale Boulevard and Glendale turns into Los Angeles. It was the home of Hollywood Cine Labs and Eddie DeRoo. Eddie was very pleasant, didn't give me the bum's rush I had experienced at most places, and said he had a customer who had some negatives stored there that he thought were Elvis TV appearances from the fifties. Eddie promised to contact this fellow and see if he was still selling this product. Three days later I met with John, at his beautiful Larchmont home (ironically, only a few blocks from what would later be Brian's store), and we became fast friends.
John's wife had recently given birth to their daughter. I still had contacts at Kaiser Hospital and was able to get them a box of infant diapers. That's the hospital–sized box, a dozen gross. Seventeen hundred and twenty-eight diapers gets you started; we used them for Lisa for nine months. They weren't very big, but you don't mind changing them every hour or two when they're free. I lost touch with John as time went on and we got busier and busier, but I'll always remember him as one of the fellows who got us started.
Paul tracked down the Sullivan Shows (minus that elusive medley from the third appearance) and then scored big with a print of "Singer Presents Elvis." We were now in the film business. Eddie made negatives from our prints and we offered the shows in 8mm, Super–8, and 16mm. For the '68 show, that one being in color, Eddie sent me to a lab in North Hollywood for a "color reversal" negative since making color negatives was their specialty. These folks proved invaluable later when we got 35mm prints of "That's the Way It Is" and "Elvis on Tour" and they were able to make 16mm negatives. Eddie still got the print jobs, and before long his lab was another of my weekly stops.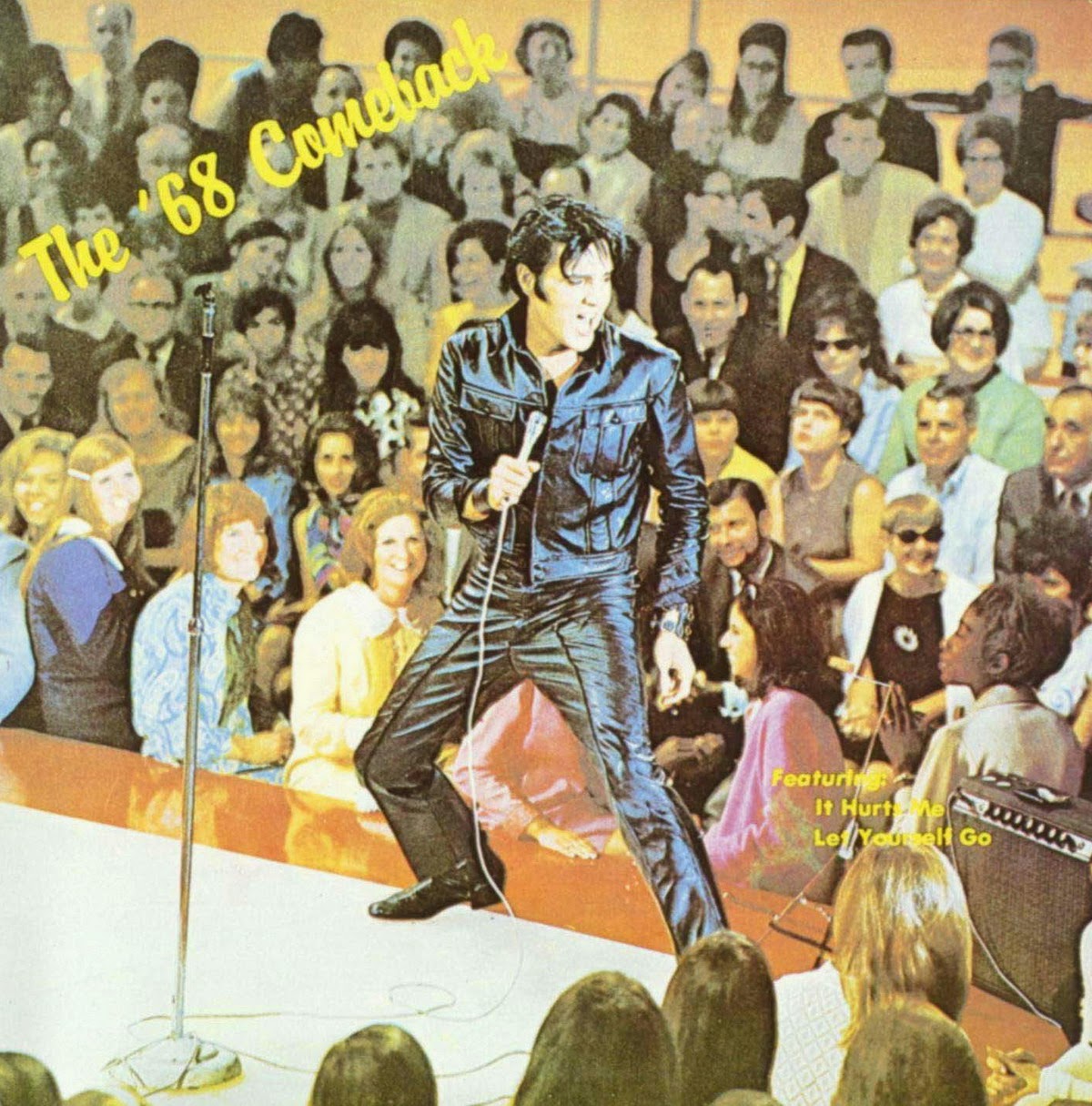 Betamax® and VHS were a year away and we would later offer our wares in those formats. I originally thought about doing the duplicating myself but by that point I was far too busy and the number of items offered had swelled. The job fell to Carl Vickery, whom I had come to know when I needed a special cable for my video camera. His outfit, Melrose Audio, was the only place around that would make cables to order. They offered duping back when that was a novelty, and Carl wound up getting more of that work than he ever could have dreamed. He and his lovely wife Dolly were getting ready to retire and move to North Carolina; he stayed around a couple extra years and did yeoman's work cranking out videotapes and fattening his nest egg.
We now had a couple novelty items in our growing catalogue: Paul had tracked down the woman who owned the rights to an Elvis "flasher" button originally manufactured in 1956. These buttons showed either of two different pictures of Elvis when viewed from different angles. She still had the original negatives and the manufacturer was still in business; we bought them in batches of 200 from her for a dollar apiece over the next few years. Except for that one order of two thousand. She was delighted to be making money once more from something long retired; and we were happy to be able to offer them as "original" 1956 EP Enterprises items. She never raised the price, and when I called with the large order I asked her to contact me first if anyone else wanted to buy them. I liked our "exclusive," and was prepared to pay extra to keep it that way. No one else ever tracked her down.
I chanced upon a fellow at the Rose Bowl Swap Meet who had found, in a warehouse, a number of boxes of an Elvis Presley Enterprises hat from '56. These were in mint condition, and most had the paper tag attached. He was selling them for $6 and I bought 500 of the 600 he had for $3 each. We later wished we had 5,000 more. These were sold for $8.98, just as Jimmy Madden had taught me.
A friend tipped me to a person who had chanced upon hundreds of Elvis dog tag necklaces, bracelets, and ankle bracelets. These were another of the myriad of EP Enterprise items that crammed shelves in 1956. About one–third of them were on the original display cards. These were stiff cardboard with black and pink lettering and a hand–drawn caricature of a gyrating Elvis. I took one card for each item to Glendale Instant Print, the folks who printed our flyers and who, by now, regarded me as a steady cash–paying customer, showed them to Bill, the owner, and asked if he could duplicate them. He could and did and I was hard pressed to tell the ones he made from the originals. He matched the shade of pink exactly and the only difference was that his had a slightly newer look. Since it was the necklace and bracelets we were selling as original 1956 EP Enterprises items I felt comfortable with this minor deception. It saved us the trouble of selling them with and without the cards and pricing them differently.
A trip to the Anaheim Convention Center November 30, 1976 for Elvis' evening show was a big letdown. I tried to hawk our albums in the parking lot before and after the show. Fans loaded down with souvenirs strolled by without giving me a second look. The only thing I learned for sure that trip was some Spanish pronunciation. I spent an hour trying to find an address, getting more frustrated after each phone call. The fellow lived in La Hoya and I must have driven through La Jolla four times.
Ger Rijff, our artist friend, came over with his Dutch fan club to see Elvis in Vegas in December 1976 and we arranged to rent a room and show films. We had added "Love Me Tender" to our list and set up four different showings over two days—two for the movie, two for the TV shows. The room seated over 100 and it was packed every time. I brought my stereo and played our records, again offering them for $5 each, and again saw them go largely ignored. With the Air Mail tariff to Europe being $3, I was befuddled. The best I could ever figure was that concertgoers and fans that bought Elvis on record were two different breeds. Did these people have record players? One wonders.
We had grown from a couple guys with an album to something approaching an actual business; as the word spread so did both our fame and notoriety. I started getting phone calls and letters from people who wanted to meet me and with some I saw opportunities to spread the word. Vicki and I traveled to Denver, CO in the early winter of '77 to show the Allen, Sullivan, and '68 films in a theater rented by a fan club. I was amazed at the quality when the films were projected on a big screen. I had only seen them on my living room wall. The admission charge was split, and I hoped we would sell lots of albums in the lobby. We did not. At $5 each they were ignored; I was at a loss to understand why. It wouldn't be the first time. We did, however, get everyone's name for our mailing list and the number of orders from the Denver area was substantial over the years. John Manzer was the architect for that venture, and we had a great time even if we didn't make any money. I was paying the bills, putting food on the table, but we sure were not shopping in Beverly Hills. Most of the bills, that is—our Chevy Vega got repossessed and I quit paying our credit cards. The money that came in went out just as fast; we were always working on the next album. One backstory to that Denver trip was a wild tale I heard from one of the fans. She claimed that a friend of hers in the area had a tape of the fabled Million Dollar Quartet session. That bit of history, centered around a 1956 visit Elvis made to Sun Studios in Memphis, was one that Elvis fans dreamed about and it was the subject of much speculation as to whether it had actually been recorded. Not only did this girl claim it existed, she said it was on an eight–track tape titled "Country Jam." Sheesh, the things these fans come up with. Who could put credence in such an obviously concocted tale as that? A couple years later, this tale did not seem so preposterous.
I was doing everything but standing on street corners trying to sell our product and, when not doing that, I was trying to think of ways I had missed. The bright spot was that our record inventory required restocking. Additionally, we kept getting letters, filled with praise, from those who had purchased the albums. Letters arrived both with orders and separately, after orders had been received. Everyone wanted to know what was next. That was the same thing I wondered. Nineteen seventy-six had produced four albums, a fifth was soon to come, and we were becoming a hot topic around Elvis Fan Club water coolers.
I sure did not want to stop now, I was just getting started, but it all depended on somehow acquiring material that had heretofore not been available on record. Not just that, but quality stuff. We had dozens of audience tapes of various shows but I could not stand listening to them, and could not see how anyone else could. We had a couple ideas that we were batting around but, strange as this sounds, we held back because we both had a feeling that something big would crop up. Little did we know just how big, but for now it was back to work assembling our next album.