A royal trip
While Paul was gathering all the material for the Hawaii booklet I flew to Nashville. One thing that we wanted, along with every other Elvis fan, was to hear the fabled Million Dollar Quartet session. It wasn't even clear that it was actually recorded. Newspaper accounts the day after that historic reunion listed a number of songs that were sung; did they actually wind up on tape?
According to that girl in Colorado they did. But that story was too wacky; if that tape truly existed it would have surfaced by now. Someone would have put out a bootleg. Done properly, it could have been the best Elvis bootleg of them all.
Shelby Singleton purchased Sun Records from Sam Phillips. Shelby put together a record the day after Elvis passed away and had it in stores nationwide a day later. It was called "The Sun Years" and had interviews, radio announcements, and incomplete portions of Sun outtakes. Although released by a commercial record company, the album was a mess. Done in haste, purely to cash in on Elvis' death, it was crass and insulting. RCA stepped in immediately and got a court order that forced the record to be recalled. RCA certainly had the clout to stop anyone from messing with its star; it was the fact that it was distributed to record stores all over the country that forced them to act quickly. We took this as a good sign; they were leaving us alone since we were catering to a collector's market. We were not any competition; they certainly knew that the number of copies we sold of any LP was insignificant by their standards. And, you didn't see our albums in the bins of the big chain stores alongside Elvis' RCA releases.
Elvis' death was completely unexpected and Shelby did not have time to put out anything truly professional; he knew RCA would halt sales as soon as possible. He certainly made money; even though thousands of copies were returned to him due to the recall, they wound up overseas. We bought his album in quantity a year later from a dealer in Australia. We paid $1.50 per album and the sea mail shipping added another fifty cents. It was just something to fill a page in our big catalogue; collectors wanted it so we made it available.
Since Shelby owned Sun, he owned the Million Dollar Quartet tapes, if there really was such a thing. Shelby claimed to have them, but since he never proved that by letting anyone listen to even a small portion, the story was suspect. We wanted to find out for sure; Paul talked with Shelby and told him about our bootlegs. Shelby was an Elvis fan, he'd heard about our records. After his attempt to slip one past RCA, only to be quickly rebuffed, he looked toward us as kindred souls. It was arranged that I would fly to Nashville and meet with Shelby. I would bring him a few of each of our LPs and 16mm prints of Elvis' Ed Sullivan and Steve Allen shows. I also brought along a print of "Singer Presents Elvis."
This largesse was for one reason, and one reason only: we wanted to find out if the Million Dollar Quartet tape really existed; Shelby said he would play it for me. Since he was picking up the tab for the flight and my hotel booking, the outcome was a certainty: the Million Dollar Quartet session had been recorded and I would get to hear it. Paul would visit Shelby after I left so he could enjoy it also; it didn't get any better than this.
I was treated like royalty from the moment I landed. Waiting for my luggage to arrive, I noticed a fellow in limousine driver garb holding a card aloft that read, "Theaker." That was certainly unexpected, and very impressive. I went over to him and he said, "Mr. Singleton apologizes for not being able to meet you himself. He asked me to take you to your hotel, and he will call you later this afternoon." Off we went.
The Spenser Inn in Nashville is a Five Star Hotel. Suites only, spacious enough to get lost in, and lavishly furnished, this was where the big–name country stars stayed. There were signed photos of dozens of them on the walls of the coffee shop and restaurant; country music played unobtrusively from hidden speakers throughout the hotel. My suite had a kitchen, a large room that was part lounge area with a TV and stereo system (plenty of albums and cassettes to choose from, I picked "Elvis' Gold Records") and part meeting area with a conference table and bar, plus a bedroom with the biggest bed I have ever seen. This was living! Shelby knew how to make one feel at home.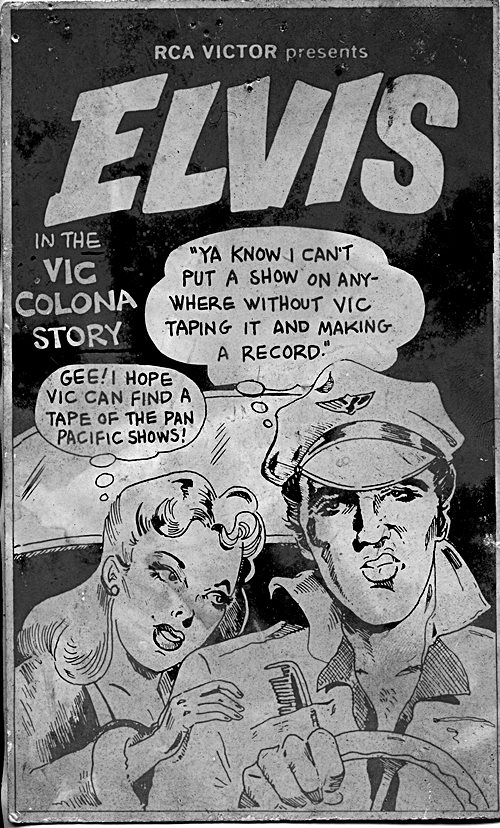 It was a Thursday afternoon; I could hardly wait until Friday morning. Shelby called a couple hours after I got settled and said he would be by to pick me up for dinner. I was waiting outside when he arrived, in a huge Cadillac, of course, and we drove back to his home to pick up his wife. His house was in a wooded, hilly suburb of Nashville; estate would be the proper term. We passed by places on the way that would have blended in nicely in the most affluent areas of Beverly Hills. Shelby's home was U–shaped; all the rooms on the inside of the "U" had sliding doors that opened out onto the pool and patio. He gave me a quick tour, and then it was off to dinner.
Cultured, distinguished, and a true Southern Gentleman describes Shelby well. Glib, sure of himself, and polished, but in no way did he act superior. He put me completely at ease, treated me like an old friend, and his wife was equally charming. We had a lavish meal in a restaurant that oozed class. The menu didn't have prices, something I had heard of but never seen, and the fare was incomparable. We chatted, enjoyed our cuisine, and Shelby took me back to the Spenser Inn with the promise that he would come by the next morning, bright and early.
Shelby picked me up at seven the next morning; we stopped for breakfast before heading over to his studio and offices. Pure class is an apt description: nothing ostentatious, but surely elegant. The latest in equipment from what I could tell; roomy and very well–appointed. Any artist who came here to record would certainly be impressed. After a spate of morning phone calls, Shelby took a look at our albums and said he was surprised by how professional they looked. He had expected the stereotypical bootlegs, not the appealing graphics our LPs displayed. "We don't have a projector here but I'll have someone bring one over this afternoon. I can't wait to see those films." Before I could ask he said, "Later today I'll stop at the bank and get the quartet tapes from my safe–deposit box; I know you'll be amazed at what you'll hear.
I didn't want to be a bother or distraction so I said I'd just sit out in the lounge and read. "Don't worry about me, I always bring a book everywhere in case I have some time to while away. I'll be perfectly content. You take care of business and let me know when you have time." After reading for three or four hours, watching people come and go from Shelby's office, I took a walk and stopped for lunch. I got back a little after one o'clock; one of the engineers came up to me and said, "Mr. Singleton had to go out for a bit. He said to tell you he'd be back later this afternoon."
It was after five when Shelby finally came in. When I saw his car pull up and park right outside the door I was elated; when he stepped out and walked to the door empty–handed I assumed he had a cassette in his pocket. "I'm really sorry, I had some important business calls to make and I never got a chance to go to the bank. They're closed now and I won't be able to get to the safe–deposit box until Monday. We'll have to arrange for you to come back and visit again and I'll play the tapes for you then." I didn't know what to say; my disappointment was obvious. I mumbled something like, "That's all right. I understand you're a busy man. I can come back whenever you'd like."
My flight left the next morning; we never heard from Shelby again. Was it all a hoax? Was this some clever bit of subterfuge to make me think he had the tapes when he really didn't? If anyone had them, it would be Shelby. Did he reconsider? Did he want to keep the existence of the tapes secret for a while longer? Was he in negotiations to sell them and just couldn't take the chance of anyone hearing them at that moment? Paul and I asked one another those questions and many more. We never did figure it out. Why did he go to all the trouble and expense to fly me there? He could certainly afford it, but why bother? What did he accomplish? Perhaps having Vic Colonna spread the word that the Million Dollar Quartet tapes were real was his first thought; then he later changed his mind.
Vicki and I talked about it, but we could make no sense of the whole thing any better than Paul or I could. For a few weeks we hoped to get a call. It then became a matter of principle; we weren't going to beg. The albums and films were a fair trade for the nice lodging and sumptuous meals; I couldn't complain. I would, as would Paul, keep searching for the quartet session. This was the Holy Grail for Elvis fans. To put out a bootleg of that memorable gathering would be the ultimate achievement. If anyone could do it, Vic Colonna could. One thing was certain, we would chase down every lead, no matter how unlikely the odds were of success. There were always rumors about someone having this tape. Too many of them, it seemed, for it not to be somewhere. The odds might be a million–to–one, but that was better than nothing. Beating the odds was nothing new to me. I thought back to just over a decade earlier in my life; there were days when I didn't know if I would ever see another one. Finding this tape would be a walk in the park compared to some of those jaunts in the jungles of Vietnam.