Doubling up
The wealth of material on the NBC videotapes put us in an entirely new position. Up until now, after an album was completed, the tough question was, "What next?" We were suddenly looking four or five albums ahead. "Burbank Sessions Vol. 2" would follow "Burbank Sessions Vol. 1." Those albums would feature the live shows done for the special. We could now make a "'68 Comeback Vol. 2" that would contain unreleased studio material from the show. We also had plans to do "Rockin' Rebel Vol. II," and there was that "Viva Las Vegas" idea that would produce another fine album if we could create an appealing cover and add something besides the different arrangements on the movie soundtrack. A "Viva" album would have the Elvis/Ann–Margret duet, "The Lady Loves Me," that had not been released; we wanted one more special track to make this album irresistible. Elvis and Ann–Margret had sung one more song together for this movie, "You're the Boss." It wound up on the cutting–room floor; we almost had it, but the acetate Paul got with that song was so scratched, it was unlistenable. We never could find a suitable tape of that song.
I rarely checked The Recycler those days; I was too busy with our Elvis business. Plus, there wasn't anything I was really searching for. What made me pick up an issue that summer of 1978 I have no idea; maybe it was just a nostalgic whim. I was sitting in the dining room/den of our rented house on Palm Drive, leafing through the copy I'd snagged that afternoon when I stopped to buy a pack of cigarettes, and spotted, "Unreleased Elvis tape for sale." There was just that and a phone number. No mention of price or what this tape contained. I called and spoke with a fellow who told me his recently–deceased dad had worked on one of Elvis' movies; he found this tape in a closet when going through things after the funeral. Just part of the routine, but sad rituals after a loved one passes: what to throw away, what to give away, what to keep? The tape, a seven–inch reel–to–reel variety recorded at 7½ ips, simply said, "Viva Las Vegas Rehearsals." He had not played it, did not know exactly what was on it, but did remember his dad talking about working with Elvis some fifteen years before. Just nine or ten at that time, it didn't make a big impression. He figured if his dad saved this tape there was probably something special on it.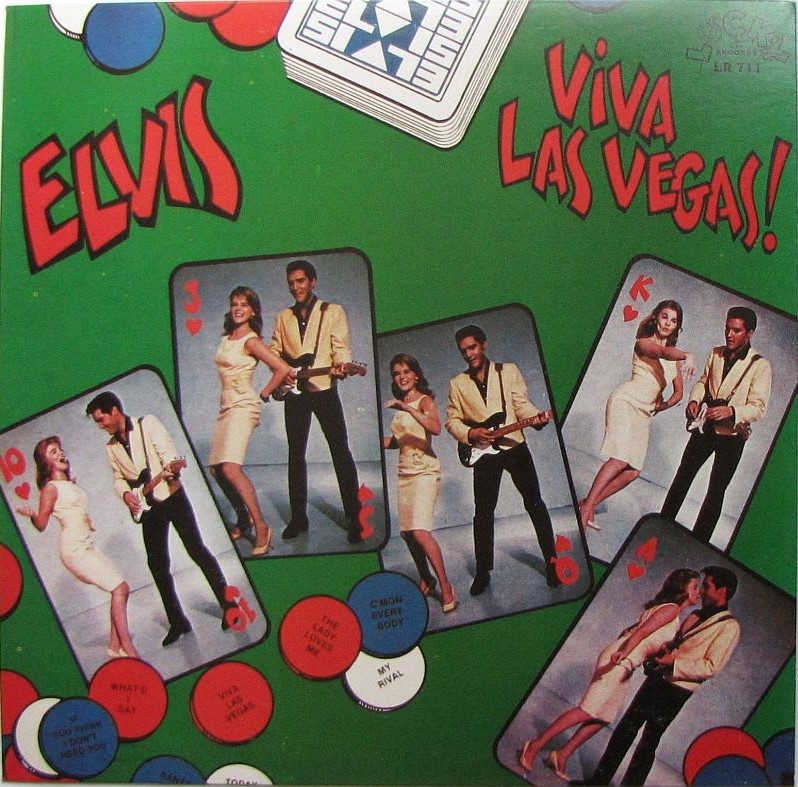 There was! He came over to our house that evening and I played it. It was less than half an hour long, sure didn't look like anything spectacular, but it had just the outtakes we needed to complete the "Viva" album we wanted to make. There are outtakes and there are outtakes. Some are mundane: the drummer loses the beat, someone hits a wrong note, the singer coughs, and the song is done over. Some are delightful: the singer adlibs, whatever causes a halt merits some funny commentary that winds up on the tape, or an egregious mistake occurs that can be hilarious. In this case, the song, "If You Think I Don't Need You," got butchered. Not once, but twice. Elvis reversed the words at one point. He sang, "I ain't had a sleep of wink…" and then started laughing while trying to continue singing. They tried again and he did it again. Outtakes like this are special; of all the ones we found, this is one of my favorites. Another "laughing" outtake was waiting for us down the road; it was over a hundred phone calls, dozens of trips to wrong addresses, and numerous knocks on unanswered doors away. That one is my favorite.
The "Viva" album would have to wait; our next project was "The Burbank Sessions, Vol. 1." It was a good thing we took a vacation when we did; we wound up putting out fourteen albums over the next two years. The sound quality of our ¾" master videotapes was perfect; I took them over to MCA Whitney to have them make audiotapes and cut the master lacquers. Larry Boden, our personal engineer since the second album, worked his magic and the results were sensational. How good? Los Angeles Times music critic Robert Hilburn said, "If you want to know what Elvis was all about, this is the album to get." The palpable excitement that Elvis alone could generate came through loud and clear. Mr. Hilburn noted that Elvis was the only performer that could segue from a driving rock song to country, gospel, pop ballad, or blues and have the fans on their feet the whole time.
J.R. came through with photos from the NBC archives; the front, back, and inside cover photos were previously unpublished. The liner notes, again done by J.R., consisted mainly of an interview he conducted with Elvis' long–time friend Charlie Hodge. Topping it all off were the reproductions of the tickets I had borrowed from Virginia Coombs. To lend an extra bit of "legitimacy" to this album, we copied the Audifön label from a German LP to attempt to disguise it as an import. The sound quality was so good, the package so professionally done, this LP set a new standard for bootlegs. I always wondered if Robert Hilburn knew that the Elvis LP he picked as the ultimate album for the uninitiated to appreciate the Elvis mystique was a bootleg.
The initial order was for 10,000 LPs; we needed more within three months. This album not only gave the fans material they should have been enjoying for years; it gave us new status in the Elvis World. Was there anything Vic Colonna could not do? Just how did he gain access to all this material? What would be next? Next would be "The Rockin' Rebel, Vol. II." We decided to insert that LP between the two Burbank LPs; even though the performances were markedly different, the same venue implied a similarity. We thought it best to offer material that had no relation to the NBC sessions before heading back to those historic tapes.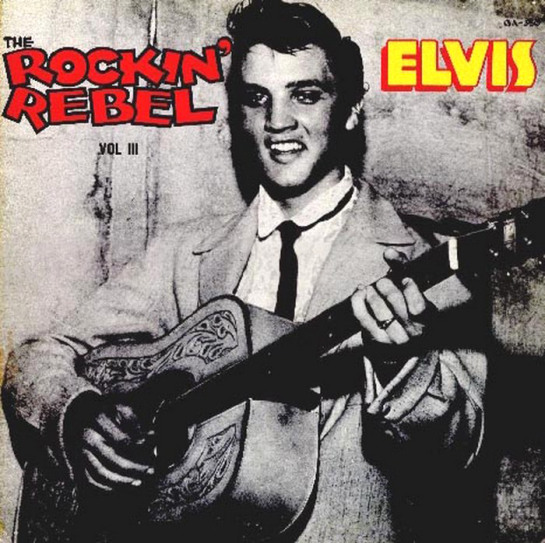 What made this possible was a trip I had recently made to Hollywood in search of photos we could use on our album covers. I had been to Larry Edmund's Cinema Bookstore before and walked out empty–handed. This store had a legendary reputation for being the place to find material no one else offered. In the hopes that something new had arrived, I checked back every three or four months. The hype may have once held validity; by the late '70s this Hollywood Boulevard landmark had been picked clean. I never found anything new, but any unusual photos of Elvis certainly would have been gobbled up instantly.
Timing is the key to many successes; I took my usual route back to Glendale, a road less traveled that was longer but quicker, and just happened to glance at a small shopping mall on Franklin Avenue while waiting for the light to change. Had that light been timed differently, I would have sailed right on by. I spotted a "Grand Opening" sign on a store window that advertised movie memorabilia and photos of "your favorite stars." What the heck, the new kid on the block just might have something new; I pulled in and parked. The place didn't look like much, a small store with a counter that traversed its width. The customer could only stand in front and look at photos and posters on the walls behind the counter. There were none of Elvis; the posters were for recent movies, the photos standard portfolio shots that looked familiar. Since I was there I figured I might as well ask. "Would you have anything on Elvis?" I said hopefully. "Yes, I have some photo sets in the back that I just received from a photographer I've known for years. Let me find them and bring them out to you." I waited. And I waited. And I waited some more. It was probably less than fifteen minutes, but it seemed longer than that. I kept hoping I would hear, "I'm still looking." or something like that from behind the curtain the owner had passed through. Not a peep. I was about ready to walk out; disgusted that he hadn't the courtesy to inform me how his search was progressing. Most waits, as we know, are a waste of time. This time, the wait was worth it.
The curtain parted, he had a big smile on his face and was holding two thick envelopes. He said, "Sorry, I didn't think it would take that long. These are the originals. I can have copies made if you like, and it would be much cheaper. I'm afraid I would have to ask a premium price if I sell these since there won't be any repeat sales." With that, he placed the manila packets on the counter, slid a bundle of photos from each, and turned them around for me to have a look.
At that moment I remember thinking, "You gotta be kidding me!" I was looking at a stack of black and white 8 X 10 photos of Elvis on stage, probably taken in 1955. There were sixteen in all; every one was crystal clear with Elvis dominating the shot. I was no expert, Paul would know, but I doubted these had ever been published. When I asked the origin, my suspicions were confirmed. "These are from a private collection. I've known the owner for a few years. He was a teen photography buff in the 1950's, as well as a rock 'n' roll fan. He lived in the southeast and saw Elvis a couple of times while he was still with Sun records."
The other packet was in color. Gorgeous color. These were also 8 X 10 size, and showed Elvis and Ann–Margret from "Viva Las Vegas." I doubted these had been published; that was substantiated a moment later when I heard, "The same guy. He wound up being a professional photographer and did some work for the studios. He always remained an Elvis fan, a number of his shots have been in magazines over the years, and he is now disposing of parts of his archives to raise money for his children's education. I have these on consignment and the asking price is high."
"What about the negatives?" I asked. "There are three price levels. For $250 each you would get a set of photos but not the right to reprint them for sale. For $750 each you would get the rights to use the photos as you see fit for one year. I will provide documentation to that effect. For the negatives and exclusive rights we are talking $2500 per set."
I would worry about a year later when the time came. I told him I would be back later with the money. It took me less than three hours to make the round trip; I forked over $1500 and hurried home. I called Paul and told him about our latest purchase; I sent Paul the photos the next morning via Express Mail and he had them the following day. He was as astounded as I had been. "These are sensational. We now have a cover for the "Viva" album and the "Rockin' Rebel 2" will have a photo booklet included. I always wanted to do that." It was another first for the bootleggers, another dagger in RCA's heart. We were getting to the point where we were putting Elvis' parent company to shame. With what we had released thus far, and what was on the drawing board, I wondered just what was being said around the conference table at the RCA building on Sunset Boulevard.
Whatever they thought, we had no plans to stop. We even had a shopping list of things we desperately wanted to find. One thing that was not on our list, but shot to the top as soon as Paul heard about it, were a number of songs from The Louisiana Hayride radio show. RCA had them. It was time to make another trip to the pound.