A different drummer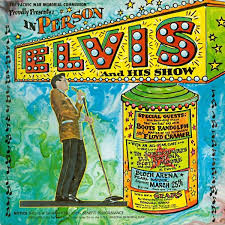 Just about the time the Hawaii album was being readied for pressing, I got a call from a Swap Meet dealer I had gotten to know well over the past couple years. Felice was a character; you had to love this girl. She and Vicki had become good friends, and we generally got together with her and her hubby for dinner every month. Sharp, a keen business sense, and very inquisitive, that would be how to sum her up. She specialized in Beatles' memorabilia, Beatles records, and Betty Boop. Gallivanting was what she did best; she knew loads of people. Everything that was whispered about at the Capitol Swap Meet found its way to her ears.
Felice told me that a fellow named Bob Hite, drummer for the band Canned Heat, had some unreleased Elvis records. She did not know the specifics, but she had his phone number and had talked with him. She found out he was willing to sell whatever he had; she told him she knew the right buyer, one who was both an expert on Elvis and would give him a fair price. I was that person. That sounded simple enough; I gave Bob a call. Then the fun began; it turned out to be anything but simple.
Bob lived out in the canyons west of Los Angeles, an area famous for its annual fires that forced evacuations and destroyed homes. Literally, he was living in a tinderbox. He was completely unconcerned, as were the other denizens of this sparsely populated region. When I spoke with Bob and made an appointment to visit him he informed me that his record player was broken and he had no way to play these Elvis records. I told him that was no problem; I would bring my own stereo system.
At that time I owned Braun tri–amped speakers (the speakers had amplifiers built right into them) and a Braun turntable. Nice equipment, but not exactly portable. I unhooked and unplugged it all; loaded it into the station wagon, and off we went. The drive was over an hour, it took another half hour to get set up once I arrived (naturally, everything had to be toted up a long and steep stone–stepped path from the driveway to the house twenty feet above), and all this time Paul was sitting by his phone back in Maryland waiting to hear just what Bob had found.
What Bob placed before me was as amazing as how he had come across it. After one glance at his "living room," it all made sense. Bob had six rows of shelving from floor to ceiling that took up half of the first floor. They stretched back some thirty to forty feet and held the largest collection of 45s I have ever seen. His collection was all 45s, nothing but 45s, and not an album in sight. Over 400,000 of them by his estimate, but he had lost track some time ago. Bob Hite was, for sure, a different drummer. However, Bob's mania for little records is what led to one of the most bizarre discoveries we ever made. Thanks, Bob, for not knowing much about Elvis. If you had, I would never have pulled this one off.
Bob had taken a vacation a while back and rented a mountain cabin in Colorado. While there, he happened to poke through the contents of a magazine rack next to an easy chair. Aside from some very outdated magazines, there were four 78rpm records. They had a paper label that had been pasted on, not the kind that is molded into the vinyl at the time of pressing. The labels were emblazoned with the lettering "Radio Recorders" across the top half of the label, along with the address on N. Sycamore Street in Hollywood. Typed in on the bottom half of the label was the song and artist. These were one–sided acetates, made at the recording studio, and I could scarcely believe my eyes when I saw what Bob had dug out of that innocent–looking magazine rack. All the songs were by Elvis, all were from the movie "King Creole," and all I needed was a turntable that played 78s to hear what Bob had unearthed. Oh, those Muses. My Braun turntable, one of the finest ever manufactured, had two belts—one for 33 1/3 & 45, another for 78. The only 78s I ever played on this turntable were the SUN records I bought with that collection in Pomona. Those were now safely in Paul's collection; I never expected to play a 78 again. How lucky to be wrong.
The songs were, "King Creole," "As Long As I Have You," "Steadfast, Loyal, and True," and "Don't Leave Me Now" (the latter two being, unfortunately, the same as the released versions). "King Creole" was the one that interested me the most; "As Long As I Have You" was a lackluster ballad. I called Paul, told him the situation, placed "King Creole" on the turntable, cranked up the volume so he would have no trouble hearing, placed the needle on the outer grooves, and the conversation went like this:
"Well, Paul, as you can hear it's just the song from the movie. The same one as on the RCA album."
"Are you kidding me? That's incredible. Get that sucker!"
"I know what you mean. I was hoping for something different myself."
"My God. That's ten times better than the released version. Get that sucker!"
"They're not even RCA pressings, just acetates from Radio Recorders. Do you still want them for your collection, knowing they are all the same as the album release?"
"I can't believe what I'm hearing, old buddy. Get that sucker! Get that sucker!"
"Let me throw the other ones on and see if there is anything different on them."
My God! I want to hear that version another twenty times. That's incredible. Get that sucker!"
And so it went. Paul going bananas in Maryland and me trying to play it down for all it was worth. It wasn't that I was out to cheat Bob Hite; I just had the feeling that if he thought he had something really special he would be reluctant to part with it. If there had been some way to record the songs at that moment I would have suggested that. Bob could have kept the records in his collection; we could have obtained the material we needed for a record. As it was, I had to leave there with the records. Who knew what could happen if I made arrangements to come back and tape them? People change their mind. Bob had showed himself to be a tad eccentric; the only way to be sure was to strike a deal immediately.
The other records were played, Paul listened, but this one was all about "King Creole." I ended the conversation with Paul saying I would be in touch. He ended it saying, "Call me when you get home. Just get those suckers!"
What to do? I wanted Bob to be happy; he deserved to be rewarded for his find. Bob was not thinking he was going to get big bucks because he found something unreleased; I had to be fair. I wound up saying that Paul was one of the biggest collectors in the world, and that he would like these in his collection. I offered him $100 each and said that if Paul thought that was too much he'd just have to live with it. I thought it was a fair price, and it was. After all, I was the one who went all the way out in the canyons to see what he had. The trip could have been for nothing. Plus, I was really paying $400 for one song.
The trip back to Glendale didn't take that long; it must have seemed like hours to Paul. We were both dying to hear that outtake of "King Creole" again. I played it a few times, we marveled at how different it was than the released version, and we congratulated each other on finding something for our next LP. Was it better? Never having heard it before we naturally thought it was. Once we got past the "newness," we agreed that RCA made the right call releasing the version we had heard for years. However, that made this one no less sensational. I stayed up late, made a tape of the songs to Express Mail to Paul, and my first stop in the morning was the Post Office.
Paul had wanted to do something very creative if we ever came up with the right material. We were hoping we could find the first Milton Berle appearance. This was just as good. That second Berle Show we got from Andy, these two outtakes, and some songs that had been bootlegged before, but not by us, would combine to make an album that was another "first" for bootleggers: a fold–out cover where one picture covered both front and back. Our albums were getting better and better. Once again something new had found its way into our hands; Elvis fans would get to enjoy performances they were never meant to hear.
I had told Bob Hite I would get my money back. That I would; that we would. This "King Creole" find, coupled with the Berle Show, gave us enough material to put out another album. We went from stuck about what to do next, our normal condition, to revving things up for another LP.
As it turned out, we would never be "stuck" again. Things had been hectic since Elvis had passed away; now we were back in the swing of things and doing what we did best—making Elvis albums full of unreleased material. It was time to make some inquiries; I needed to contact "Cary" and find out more about just where he got those studio outtakes.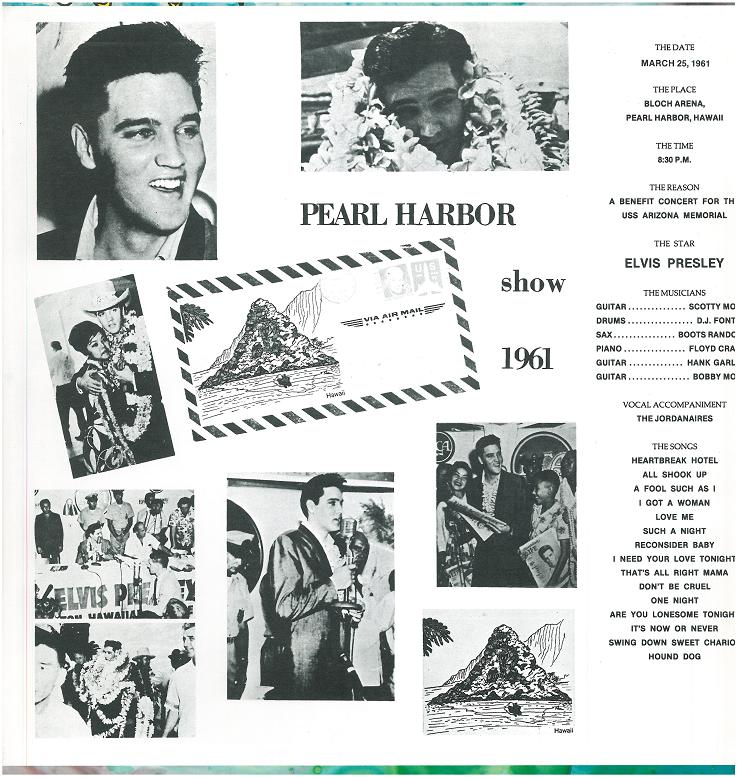 Had Travis been a go–getter, the "Hawaii Benefit Concert" album might not have been made. There would have been no urgency. We would have had what we were about to get: enough unreleased material to fill a few LPs. As it was, it came at the right time. It was quite a different feeling being able to look months ahead and plan future releases. It was also a daunting task. Hours and hours of never–before seen or heard tapes had been waiting for us for months. The visits I had paid to the Turning Point to drop off copies of "Command Performance" and the "Hawaii Benefit Concert" were made in the daytime; the time when Travis was off to pick up new albums from the distributor. A new Streisand album Vicki wanted, one I had forgotten to get, meant a nighttime trip to Turning Point. Travis was there, and he told me Andy had made more tapes for me. Made last year! We'll visit those tapes soon; first, let's pay a visit to "The Rockin' Rebel."