The old college try
The first album did not produce the results we had anticipated but I was not dissuaded. I knew we could sell these albums; we just had to get the word out to more fans. We needed to put together another album, that was the main thing, and Paul had an idea: the movies "Loving You" and "Jailhouse Rock" had versions of songs that differed from the LP and EP soundtracks released by RCA. Not major differences, but certainly different takes that Elvis fans had noted and would enjoy having on a record. The only "exclusive song" we had, a track not on any RCA album, was an uptempo, jazzy version of "Loving You." But it was just one verse that devolved into an instrumental as the opening credits unreeled. We always wondered if Elvis had recorded the whole song in this upbeat fashion. Did he ever! But that find was years away.
We rented 16mm prints of the movies and recorded the songs; we added a five–minute excerpt from a 1957 concert in Vancouver, Canada (all we had and all that ever surfaced), and I took the tapes to Whitney Recording Studios in Glendale for mastering. I had noticed them in my travels to the pressing plant and, being much more accessible than downtown L.A., I went in and made an appointment with an engineer. The fellow that was handed the job, Larry Boden, was amicable and knowledgeable and became the architect for all our future releases. He put his all into each project; his personal touch and genuine pride in a job well done made a huge difference in our finished records.
While we worked on the logistical details (cover, label, advertising flyers, etc.), I continued to look for Elvis collectibles. There were a scant few records that I was missing and I was sure they would become available if I persisted. I contacted other collectors, scoured ads in Goldmine, and, the first Sunday of each month, joined the gang in the Capitol Records parking lot.
That "Capitol Records Swap Meet," as it was known, was in its infancy then. A cordon of dealers pulled in between six and seven in the morning and the waiting collectors descended upon them like some Mongol Horde as they emptied trunks, backs of station wagons, set up tables, and displayed their records. Prices were reasonable, the selection quite varied but primarily rock, and the dealers numbered less than twenty. Before noon there was no trace left of the frenzied activity that took place for a few hours. A curious thing began to happen: originally known only to and intended for a few dedicated collectors, word began to spread. More people began to show up and there was a fair number, myself included, who made sure to arrive before sunup in order to get first pick of whatever treasures might await. Noticing people waiting for them, the sellers began to show up earlier. So did we. The madness escalated, and over the course of a year, this once–esoteric event expanded by degrees. The starting time backed up each month until this small and civilized gathering had spilled across the street into a much larger lot, began on Saturday morning, and ran for two days. You guessed it: everyone but peanut vendors and accordion–cued monkeys vied for space. By then I showed up only occasionally, mostly to see friends and marvel at how a side–street sideshow had morphed into bedlam. Of the friends I made, one was a big fan of another artist. This fellow stood out from the riff–raff: these Swap Meet record collectors generally being a scruffy, uncultured bunch. He was always nattily dressed, impeccably groomed, and a genuine class act. Think Cary Grant. Since he prefers to remain in the shadows, we'll call him ""Cary"". In my travels looking for Elvis items, I often ran across items by this other artist, usually old ten–inch albums or 45s with picture sleeves, and I knew ""Cary"" could use these for trading fodder. I always picked them up for him; it was no trouble and I was glad to do it. None ever cost over a dollar and I gladly gave them to "Cary" when I saw him each month. He was always appreciative. "Cary" was also an Elvis fan, and I hoped that he might find something I could use one day. That was all the repayment I ever hoped for. He repaid me, did he ever, for without "Cary" I would never have found all those recording sessions outtakes. More on that later.
The album "Got A Lot O' Livin' To Do!" followed the Dorsey Shows LP and was slightly more successful thanks to our increased mailing list and some word–of–mouth from satisfied customers. We recouped expenses in a couple months and were busy planning our next album. The next album we actually released, however, was "The '68 Comeback." Paul had already put this out, as mentioned, and he shipped me the negatives for the covers and the metal parts for stamping the records. We chose to re–do the label, realign the photos on the back cover, add a number to the spine and front cover, and offer this as our third release. There was also an error to correct: "Comeback" was misspelled as "Comback" on the back cover of Paul's version. I wondered how he could have missed that. As time went on I found out: every album had some minor flaw that went unnoticed until the finished version was in our hands. It seemed to be the nature of the beast; no matter how many times we checked there was a punctuation mark, clumsy wording, or some technical detail that eluded us. So be it. On the positive side, the number of customers continued to grow as we combed through Elvis fan club publications for more names.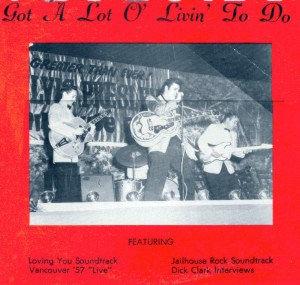 I was starting to feel the first flush of success. We received dozens of letters from satisfied customers, all hoping we would offer more albums. We were in uncharted territory; no bootlegger had ever limited himself to one artist and started offering new albums on a regular basis. Paul's two bootlegs were separated by over a year. We had picked up a number of customers in Europe, Canada, Japan, and South America. Vic was on his way to becoming a household word in the Elvis community; we needed new material and new albums to sustain the momentum. Yes, we kept finding new material and wound up having quite a run. You might say we got lucky; indeed we did. But, luck is when preparation meets opportunity, and the "finds" we made were the result of dogged determination and thousands of hours spent tracking down leads. We had phenomenal success because we never let up, never gave up, and the fans kept giving us the thumbs–up.
After "The '68 Comeback" was ready—our initial order had grown to 1,000 LPs (and 5,000 covers)—we set to work on the next album. It would be Elvis' three Ed Sullivan appearances. The Sullivan material had already been released—on bootleg, not by RCA—but the quality was poor. It was one of those typical bootleg albums: the cover art was lackluster—just one–color, minimal information, grainy photo, blank back cover—and the label was blank. There were but a handful of bootlegs out there that caught the eye. Even then, quality was a gamble. Paul and I were determined to change that. Paul had just obtained three 16–inch transcription records, ones originally sent to Armed Forces Radio & Television Service back in 1956 and 1957 for broadcast to troops in Europe, that contained the Sullivan appearances.
Paul had a spectacular, unpublished color picture of Elvis on stage in 1955 that would grace the cover. The album was called "From the Waist Up" and it quickly became our best seller to date.
We were determined to go where no bootlegger had ever gone before; in that regard this album had a sticker on the shrink–wrap that announced, "Bonus Poster Included." It was a cartoon pen & ink drawing by Ger Rijff from Holland, a long–time friend of Paul's. Ger was quite the artist, and the 23 x 31 inch poster showed a gyrating Elvis under a giant rubber "CBS Censor" stamp that obliterated the lower half of his torso. Ed Sullivan was shown off to the side, thinking, "Son of a bitch." The poster was titled, "Elvis on TV in the 50s." The extra cost? 20¢ for the posters (5000) including negatives and set–up (additional orders cost 8¢ each), 4¢ for the stickers (we had 10,000, that would hold us for a while), and an additional penny to have the sticker affixed to the album. This was the first of many "firsts" we would introduce to the world of bootlegging.
I had done the math. I theorized that if sat on a corner on Hollywood Boulevard and offered our albums to the passers–by I could undoubtedly find one buyer out of every ten thousand people. There were two hundred and fifty million people in this country. That meant we had the potential to sell at least 25,000 albums in the USA alone. All we had to do was get the word out. Advertising on TV, radio, in newspapers or magazines was too expensive. Not only that, it would draw unwanted attention. How I would have loved to place a full–page ad in TV Guide, then the best–selling magazine, but that was just a flight of fancy. At this time, however, there were TV ads running, usually late at night, for a 2–LP set by Brookville Marketing (duly authorized by RCA) offering a "Hound Dog" collection that was simply a hits package. I read somewhere that they had sold over three million of these. That is an astounding number for a hits package, testimony to the appeal and drawing power of Elvis. I recalled a spoof or parody ad from the late sixties that offered a compilation album of socially relevant songs; one of them was Elvis', "In the Ghetto." It was all a big joke; nothing meant to be taken seriously, and FM stations had fun with it. It wasn't a joke for the U.S. Post Office: a phony address for ordering was part of the pitch; thousands of orders were received at the nonexistent box and had to be returned. Elvis just didn't appear on compilation albums at that time; there were perhaps three or four exceptions that were issued as "RCA Special Products."
A casual conversation with Jimmy Madden, a fellow I met at the Capitol Swap Meet who ran a mail–order business centered on Beatles product, informed me that companies such as Brookville sold their mailing lists. We were off and running. Jimmy also provided some sage advice: to be successful in mail order one needed to turn a profit with a one percent response from untested customers, and items sold had to be marked up at least three hundred percent.
I purchased 5,000 names from Brookville, the minimum order, contacted a mailing service to send them out using their bulk mailing permit, had the flyers printed and delivered, and settled back to wait and see. We added a few novelty items and a couple of foreign LPs that Paul could easily purchase in bulk, to camouflage the fact we were just selling bootlegs. Our albums were advertised as, "Direct from Holland" or "Only available in Europe." Total investment: $1,000, or 20¢ per name. If fifty people spent twenty dollars each, we would break even. That is almost exactly what happened. The return on the mailing was one point two percent; we turned a small profit and, most importantly, added new buyers to our core mailing list. That return percentage stayed constant over the years as we bought more and more names. Only once did it vary. You know when.